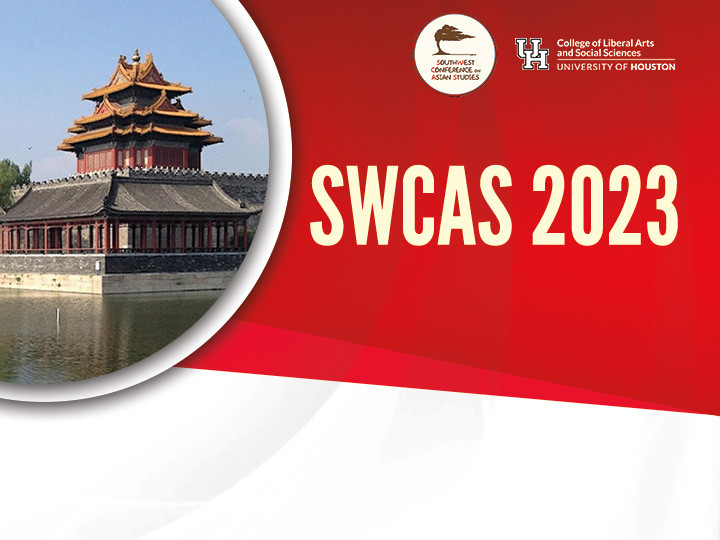 The College of Liberal Arts and Social Sciences reached a significant milestone as it hosted the 52nd Southwest Conference on Asian Studies (SWCAS), prompting a unique opportunity for collaboration, networking and discussion among scholars seeking to learn more about Asian culture. The event served as a vibrant melting pot, providing a fertile ground for exploring the contemporary issues faced by Asian countries and communities. 
The annual conference, "Voices and Visions: New Perspectives in Asian Studies,"  was hosted mainly by SWCAS on Nov. 3-4 at the University of Houston, fostering a deeper relationship for the region. Led by Melody Yunzi Li, Ph.D., assistant professor of Chinese Studies and 2022-2023 SWCAS president, the event was a resounding success.
"Such distinctive events exemplify our efforts to connect creative artists, academic scholars and community partners," Li said. "As we step out of the pandemic, we have the opportunity to step outside the confines of traditional academia, embracing new possibilities within and beyond our established disciplines."
At the opening ceremony, welcoming remarks were heard from CLASS Dean Dan O'Connor and Karen Fang, director of Media and Moving Image. It took place on Friday, Nov. 3, featuring the very first joint performance by the University of Houston Mariachi Pumas and Houston Chinese Orchestra. A cultural fair followed, with local Asian community partners such as the Chinese Community Center, Korean Education Center, Japan American Foundation, Museum of Fine Arts, Filipino Student Association and UH Chinese Study Abroad Program Summer 2023 joining in.
"We broke the historical record of the conference," Li said. "Historically, it is a regional conference, and it hasn't been in Houston for two decades, last time with only 30-50 people." 
Conference participants included more than 220 scholars giving presentations online and in-person and thought-provoking discussions prompted by an array of panel sessions at the Student Center. A myriad of topics were discussed, ranging from the artistic expression of East Asia to political transformations in Southeast Asia to the social dynamics of South Asia.
An Educators' Symposium and multiple pedagogy-focused panels examined innovative approaches for incorporating Asian visual cultures into K-12 and undergraduate curricula. For virtual conference attendees, Canadian fiction writer Ling Zhang discussed the English novel, "Where Waters Meet." A captivating multigenerational saga, it brings much-needed attention to women's suffering during wartime and highlights their extraordinary resilience in extreme circumstances. 
Beyond the academic discussions, SWCAS also spotlighted various aspects of Asian culture, art and music through captivating performances and exhibitions, exploring fresh perspectives that shed light on the rich tapestry of Asian studies. Scholars enjoyed a film screening of the documentary "Camellia Flowers" on Nov. 4, directed by Changhee Chun, professor of cinema and photography from UT Arlington, as well as a Q&A.
Jean Oi, Ph.D., president of the Association for Asian Studies, SWCAS' mother conference, conducted the keynote speech. She is a William Haas Professor of Chinese Politics and Senior Fellow at the Freeman Spogli Institute for International Studies at Stanford University. 
"This is a rare chance for many scholars in Houston and from out of town to get together for a big regional Asian studies academic conference," Li said. "In a year of possibility and new beginnings, SWCAS celebrates local and global communities of Asian studies through connecting creative artists, academic scholars and community partners."  
Her pioneering leadership ensured that the conference was a remarkable achievement, and the University of Houston's commitment to fostering cultural exchange and cross-disciplinary collaborations further solidified its standing as a frontrunner in Asian studies.  
"I think this year's conference is the biggest and best it's ever been, and I think that is entirely due to Dr. Melody Li's vision about what the conference is all about," said past SWCAS President Zack Smith. "Her drive, connections and passion for Asian studies builds bridges between cultures … and it was contagious at the conference."