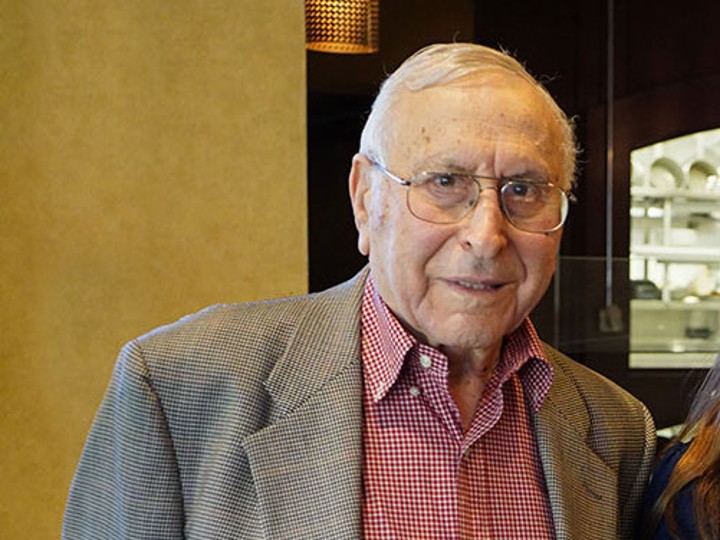 Professor Emeritus Joseph Lippman Nogee passed away July 11. A reverent stamp collector and classical music enthusiast, Nogee served on the faculty in the department of political science for 46 years before retiring in 2004.
"Nogee was a great colleague, strongly devoted to our department over his long career," said Jeffrey Church, political science department chair. "He was also a generous mentor to so many students, both graduate and undergraduate." Nogee was renowned for scholarship centered on international politics and student engagement.
Nogee joined the University of Houston as an assistant professor of political science in 1958, and he advanced to full professor, director and department chair during his decades-long career. He was awarded the rank of Emeritus Professor in 1999.
Prior to joining the University of Houston, Nogee obtained a bachelor's degree in foreign service from Georgetown University, a master's degree in history from the University of Chicago and a Ph.D. in international relations from Yale, where he also worked as a graduate teaching fellow.
Nogee embodied excellence as a professor of international politics, specializing in Soviet and Russian politics. He wrote extensively about the control of atomic energy as well as the Soviet Union and Russian politics. He co-authored or edited nine books throughout his career.
Nogee valued his colleagues and students and derived immense pleasure from teaching. With a great sense of humor and the gift of making subject matter interesting and understandable, his courses were consistently ranked highly by students.
Even after retirement, Nogee remained engaged in academic life. He continued to be an active member of the American Political Science Association, chairman of the Southwest Political Science Association and an editorial board member of the leading journal of political scientific research, American Political Science Review.
In 2018, Nogee and his wife, Jo Nabors Nogee, established the Jyle Nogee Graduate Studies Endowment in Political Science in memorial for their late son. The endowment continues to support scholarships for graduate students in the political science department.
"He touched a lot of lives," Church said. "We will miss him."
Joseph Nogee is survived by his wife, Jo, his daughter, Leah Brooks, two grandchildren, a nephew, and a niece. In lieu of flowers, gifts in memory may be directed to the Joseph and Jo Nogee Faculty Excellence Endowment in Political Science at giving.uh.edu/gift. Go to the "Search Funds" tab to designate funds or donate to an animal charity of choice.