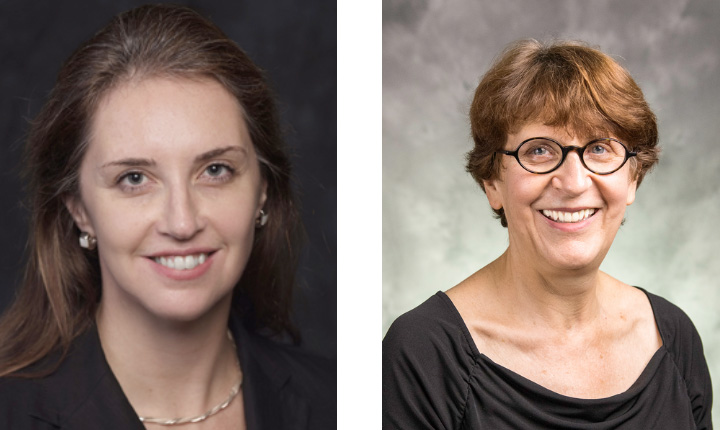 College of Liberal Arts and Social Sciences (CLASS) Professors Carla Sharp, Ph.D., and Sarah Fishman, Ph.D., have joined the prestigious ranks of Moores Professors.
"I'm so honored because I know the other people who have these chairs – Dr. Young in our department, Dr. Koontz over in the college of the arts. I'm certainly in awe of these people, so to be included is really an honor. I'm excited about the opportunities it presents, and it feels like a nice acknowledgment of the things that I've done since I've been here," said Fishman, who teaches courses on European history.
The Moores Professorship Program was established to honor full-time faculty who have achieved the rank of full professor at the University of Houston and who have made outstanding contributions in research, scholarship and/or creative activities, teaching and service. Each Moores Professor receives an annual stipend of $10,000 for a period of five years, with the possibility of renewal.
"Receiving a Moores Professorship is one of the highest distinctions the University of Houston awards its faculty, so receiving it is a clear mark of achievement. That Drs. Sharp and Fishman were selected for this endorsement highlights the importance and influence of their work and the respect they have from their colleagues," Daniel P. O'Connor, dean of the College of Liberal Arts and Social Sciences, said.
Since its inception in 1996, the Moores Professorship has honored 18 CLASS professors. Fishman's and Sharp's appointments will begin September 1. Fishman and Sharp will be joined by two other CLASS professors, Clayton Neighbors and Lois Parkinson Zamora whose Moores appointments were renewed.
Sharp, who is a clinical psychology professor and associate dean for faculty and research, said that during her five-year appointment she hopes to continue her research on the treatment and prevention of mental health challenges in youth.
"I'm particularly excited about our work in further evaluating and establishing an intervention that strengthens relationships between caregivers and children called the Mediational Intervention for Sensitizing Caregivers. A lot of our efforts are now focused on bringing this intervention to caregivers and children who typically do not have access to mental health services," said Sharp.
Similarly, Fishman has grand plans for the award that comes with this new professorship. She will use a portion of her funds to help support graduate and undergraduate student research. Fishman will also work on a research project that will compare Dr. Spock and Laurence Pernoud. Pernoud is a French journalist who wrote France's version of Spock's book, "The Common Sense Book of Baby and Child Care" when she got pregnant and discovered that France did not have one of their own. Fishman's research for this project will look into both authors as people, their takes on having babies and raising children and what that reveals about American and French culture.
Both professors view the impact of this new professorship to extend beyond themselves and influence the University community at large.
"The accomplishment is very special to me because it recognizes the work of many graduate and undergraduate students and collaborators who have contributed to our research, as well as the UH community which has offered an outstanding environment to contribute in teaching and service," said Sharp.