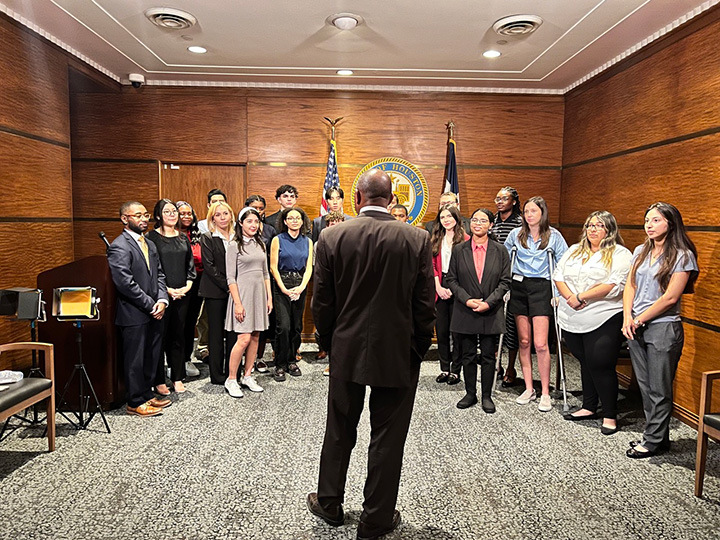 This summer, the unique internship will return to give five students in the University of Houston College of Liberal Arts and Social Sciences a hands-on learning opportunity with key decision-makers in Houston. 
The Dean's Mayoral Internship Program started in 2019 as a partner between then Dean Antonio D. Tillis and Mayor Sylvester Turner. Now, it will make its post-pandemic return for students interested in learning more about city government. 
"Our program will allow students to explore the professional world and focus their career decisions and they will get to do so alongside the decision makers of our city," said Director of Education Olivera Jankovska. "Once the program has concluded, participants will be prepared to make a more informed decision regarding their careers and will possess the skills necessary to take the next step." 
Sally Connolly, Ph.D., CLASS associate dean of faculty and student success, works with the mayor's office to coordinate the program and informs students of their selection during the competitive application process. 
"It really is a wonderful opportunity for outstanding CLASS students to experience what public service is like and decide if they would like a career in local or national politics," Connolly said. 
Connolly emphasized the importance of this paid opportunity for students. On the job, they will work to improve the Houston community with the following departments and initiatives: 
Cultural Affairs

 

Boards and Commissions

Communication

Education (Hire Houston Youth)

Education (UNICEF Child Friendly Cities Initiative)

 
Matthew Tao — one of five winners — is a double-major in biology and psychology who anticipates starting his senior year at University Houston in the fall. Tao is looking forward to learning what he can do to have an impact on Houston's diverse communities. 
"Through the CLASS Dean's Mayoral Internship, I am hoping to gain a fresh perspective and in-depth exposure on government and policy work," Tao said. "I believe I will be able to serve the Houston community, not only on an individual level, but on a citywide level."