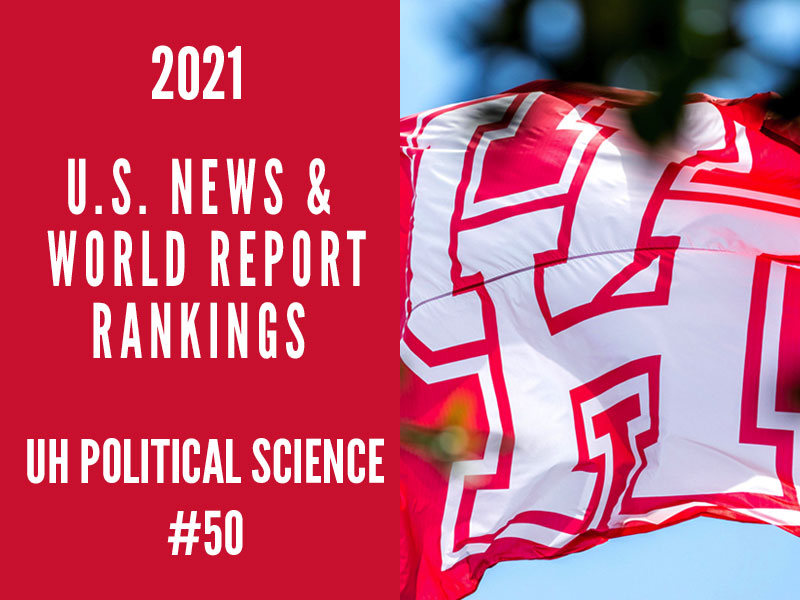 The University of Houston College of Liberal Arts and Social Sciences (CLASS) Department of Political Science celebrated an exciting milestone last week, breaking into the top 50 of U.S. News and World Report's 2021 rankings of the best graduate programs in the discipline. The publication's prestigious and influential rankings, which rely on peer institutions' survey data, reflect the growing impact of the research and scholarship from the department's graduate students and faculty.
"Our faculty in political science are doing rigorous, cutting-edge research and are training top-notch students," said Professor and Department Chair Jeffrey Church. "I'm proud of our faculty for their hard work and for earning this recognition, and grateful to the University for its support. Breaking into the top 50 programs will increase the visibility of our program in our discipline and will attract even more good students to be part of our efforts."
The department of political science's graduate program provides advanced training to students whose career goals include college teaching and cutting-edge research. The department is organized into five major subfields of American politics, comparative politics, political theory, international relations, and public policy. The department has a long history of quantitatively oriented scholarship, and all students must fulfill a requirement in research methods.
"The University's political science graduate program has continued to garner well-earned recognition from the wider academic world," said Daniel P. O'Connor, Ph.D., interim dean of CLASS. "The program's rise in the national rankings comes from the hard work of our students and faculty, whose research and scholarship is at the leading edge of modern political thought."