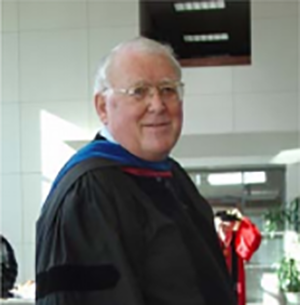 "I am saddened to announce that Dr. Dale Gordan Pease, professor emeritus of Health and Human Performance (HHP), has passed away," said Dr. Daniel P. O'Connor, interim dean of the UH College of Liberal Arts and Social Sciences (CLASS). "Dr. Pease was genuinely and selflessly engaged in ensuring the success of students, particularly graduate students."
Dr. O'Connor notes that he was a student in Dr. Pease's doctoral seminar course, where he learned to transform a vague research idea into a focused dissertation project.
"Dr. Pease personally mentored many UH graduate students who are now themselves successful faculty and researchers, a clear indicator of his impactful and lasting legacy," said O'Connor.
Dr. Pease was born on June 8, 1939, in Greenwood, NY, and died Sunday, October 25, 2020, in Katy, Texas.
Dr. Pease's early career was spent instructing high school and college physical education classes. He also served as a basketball coach, leading teams to several championships. He joined the HHP faculty in 1983 as department chair of Health, Physical Education, Recreation and Dance, a position he held for 13 years. Certified as a sports psychology consultant, he conducted extensive research, publishing many articles focusing on mental strategies and psychological methods to enhance athletic performance. Dr. Pease was the co-author of "Sports Fans: The Psychology and Social Impact of Spectators." He retired from UH in 2007. Dr. Pease also served an adjunct appointment at the Baylor College of Medicine.
"Dr. Pease was a well-respected physical educator, coach, and administrator," said Demetrius Pearson, HHP associate professor. "He was also a consummate professional and stellar sport psychologist who studied under the nationally-renowned motor learning and sport psychologist Robert Singer."
Dr. Pease was awarded the UH College of Education's Distinguished Career Award in 2007 and the Honor Award from Texas Association of Health, Physical Education, Recreation and Dance for "demonstrating leadership, achieving excellence and being an exceptional representative of the (physical) education profession."
Dr. Pease's family has requested has that any donations be made to the UH Department of Health and Human Performance to help fund graduate student scholarships. https://uh.edu/class/hhp/giving/.