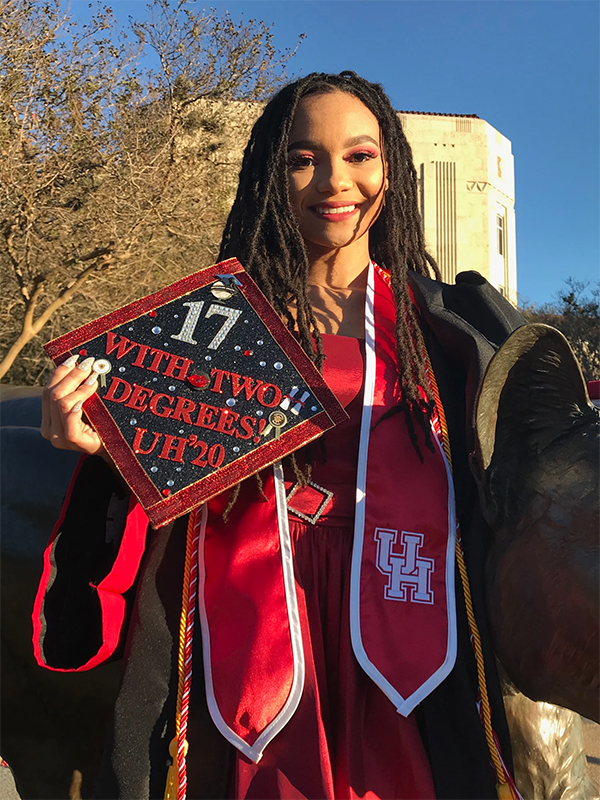 Salenah Cartier, 17, B.S., Psychology
Free time is a waste of time to Salenah Cartier, who is constantly looking for ways to "feed her brain."  At 17, she will earn a bachelor's degree in psychology from the UH College of Liberal Arts and Social Sciences, making her the youngest UH graduate this year. The ambitious teenager will also receive a certificate in Corporate Entrepreneurship from C.T. Bauer College of Business. 
Motivated by success, change and growth, Cartier's mother instilled the importance of self-worth, creativity and never letting age get in the way. 
"My mom would always say you have to figure out what you want to do in life and how you want to make an impact on the world," she explained.
When she was just 14, Cartier received a high school diploma from a homeschool program while taking dual credit classes at Lone Star College-Kingwood. Armed with an associate of science degree from LSC at 16, she transferred to UH. Growing up one of four children in a single-parent household, Cartier paid for most of her college expenses by selling discarded textbooks on eBay that she found at thrift stores and resale websites.  
Next month, she'll return to UH to pursue a master's degree in the College of Education's Curriculum and Instruction program. Her goal is to one day become an educator and policy maker to help those less fortunate understand that "anything is possible and to not let their circumstances get in the way."