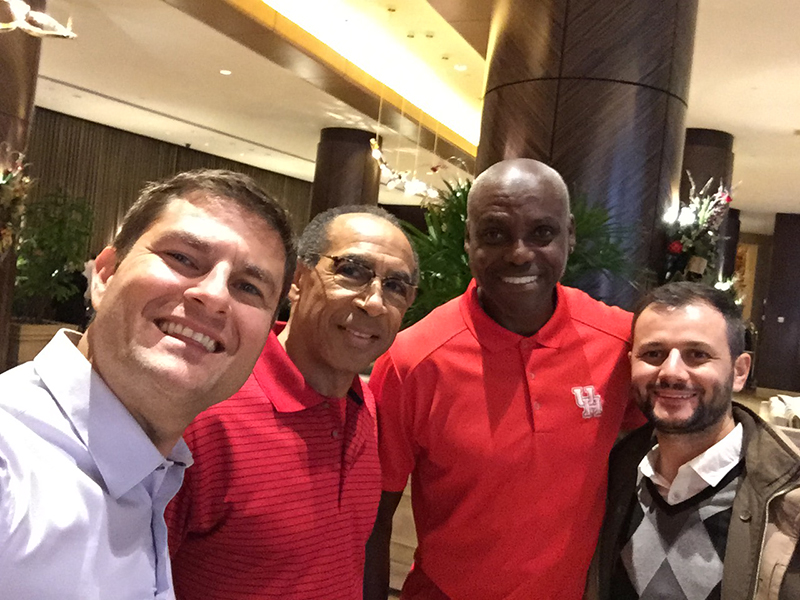 Left to Right: Sergio Rosenhek, Brazilian Trip Coordinator and former HHP-SFAP graduate student 2006; Dr. Demetrius Pearson, Associate Professor, HHP-SFAP; Coach Carl Lewis, Assistant Coach, UH-Track & Field Program; Dr. Geraldo Campestrini, Assistant Trip Coordinator
A group of Brazilian sport administrators, best known for staging last summer's  Olympic and Paralympic Games in Rio de Janeiro, as well as the World Cup©, recently visited the College of Liberal Arts and Social Sciences' (CLASS) Department of Health and Human Performance (HHP) to learn from the department's experts in sport administration.
The Brazilian sport administrators turned to CLASS because they wanted to learn about HHP's administration of its sport programs, and more specifically about HHP's Sport and Fitness Administration Program (SFAP). The SFAP has been a cornerstone in providing students with a comprehensive program of study by integrating theoretical concepts and practical application of management strategies to address the burgeoning needs of a sport conscious society.
"We are ecstatic to have been chosen by administrators who have staged several of the largest sporting events in the world to host this day-long sport symposium and convey information about CLASS's HHP program," says Dr. Demetrius Pearson, associate professor of Health and Human Performance. "This visit from a group of international sport administrators helps raise the visibility of UH and HHP around the country."
Carl Lewis, UH alumnus and nine-time U.S. Track and Field Olympic gold medalist, also participated in the symposium.   
"The group was very impressed with CLASS's facilities, the lectures, and mostly excited to learn from the SFAP faculty," says Sergio Rosenhek. "Carl Lewis' visit was the highlight of the trip. Everyone was so surprised, so excited to meet him and they got very inspired by his speech."
Rosenhek is also an alumnus of HHP who graduated from the SFAP in 2006. In addition, he played the dual role as head coach and player in the United Sates' first futsal team to Israel in the 2009 Maccabiah Games. Futsal is based on the game of soccer, but played with four field players and one goalkeeper per team with a smaller, weighted ball on an indoor surface about the size of a basketball court.
Dr. Daniel O'Connor, Health and Human Performance Department Chair and Professor, gave the welcome address. Symposium presenters included Dr. Demetrius Pearson, associate professor of Health and Human Performance; Dr. Michael Cottingham, assistant professor of Health and Human Performance; Dr. Dong Hun Lee, assistant professor of Health and Human Performance; and Dr. David Walsh, clinical assistant professor of Health and Human Performance.
The Sport Administration Information Exchange Symposium was held on December 14, 2016.
- Toni Mooney Smith