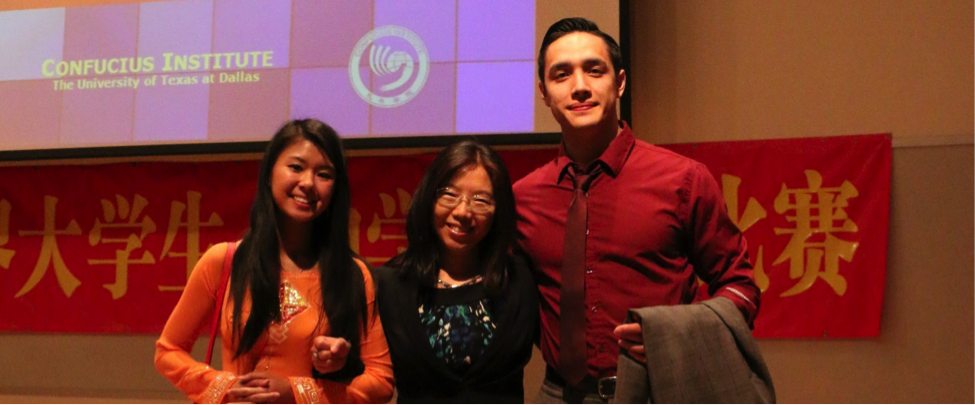 Chinese Studies major undergraduate wins scholarship on Chinese reality TV show
Department of Modern and Classical Languages prepared My Viet Le to successfully compete
The competition was intense.
My Viet Le delivered a speech, performed a talent, and answered challenging questions in Chinese, the foreign language the native English speaker had started studying less than three years earlier.
And he had to do all of this better than more than 100 other Chinese-as-a-Second-Language students from around the world – during a nationally-televised program that aired in China.
Le credits his training with the Chinese Studies faculty in the Department of Modern and Classical Languages for giving him most of the skills he needed to win the competition and claim the grand prize of a three-year scholarship to attend graduate school in China.
Le grew up in Nebraska and enrolled at the University of Houston in Fall 2012 specifically to gain admittance to the Chinese Studies program. He had ambitions of becoming an interpreter and believed the program in the College of Liberal Arts and Social Sciences would prepare him for his future career.
He did so well in his classes that Jing Zhang, instructional assistant professor of Chinese, recommended he participate in the highly competitive Chinese Bridge competition, which is sponsored by The Confucius Institute/Han Ban, China.
Under Zhang's guidance and coaching, Le won first place in the regional competition and the international competition held in Beijing in August. He beat out 133 other Chinese Studies students from 97 countries.
To compete, students could not have any prior knowledge of the Chinese language. Both of Le's parents have Vietnamese heritage and he only started studying Chinese recently. As part of the competition, Le gave a two-minute speech and verbally responded to questions about Chinese history, culture, current events, and current Chinese slang.
"We had to make sure he spoke without an accent," says Zhang. "We worked on his body gestures, eye contact, and his tones – all of these things are important parts of the speech."
A second part of the competition was a month-long reality TV show where Le and his fellow top 10 competitors toured the country performing a variety of tasks. Chinese viewers of the show voted for their favorite contestant. In the end, Le won the first place prize and was declared the "People's Champion." As the winner, Le will use his three-year, full scholarship to attend graduate school in China.
The senior has gotten a jumpstart on his overseas academic pursuits. As an UH undergraduate student, he received a Beijing Institute of Technology scholarship to spend the 2015-2016 academic year in China completing his undergraduate degree course work as a study abroad student.
- By Monica Byars