Houston Shakespeare Festival Conservatory trains tomorrow's stars
High-school students spent two weeks at UH learning how to perform Shakespearian plays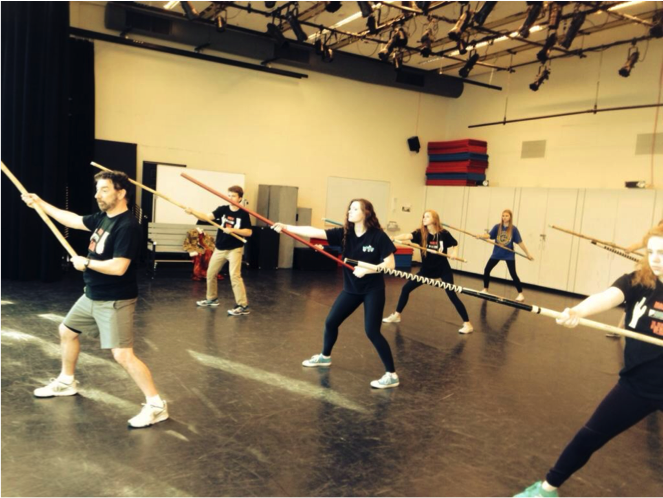 A dedicated group of aspiring actors came to the University of Houston to learn how to perform William Shakespeare's iconic plays from veteran stage professionals in the School of Theatre & Dance
This summer the Houston Shakespeare Festival Conservatory marked its fifth year of grooming a new generation of stage stars. For two weeks, the conservatory faculty hosted area high school students as on-campus residents, introduced them to the Bard's stage works, and gave them performance training. The conservatory also offered them the invaluable opportunity to perform in the Houston Shakespeare Festival (HSF) at Miller Outdoor Theatre.
The conservatory students delivered short performances on the lawn at Miller Outdoor Theatre and had supporting roles in the HSF productions of "Macbeth" and "The Merchant of Venice."
"I've always felt a little intimidated by Shakespeare," admitted conservatory student Sarah Collins. "This experience has left me with a different point of view."
Collins, a senior at Houston's St. Agnes Academy, and her conservatory classmates learned the ins and outs of the theater industry, including stage combat, dialects, improvisation, acting for the camera and other helpful stage tips. They also received guidance on auditioning and promoting themselves through resumes, headshots and interviews.
Among those guiding the conservatory students were graduate students Kat Cordes and Kenn Hopkins.
"These students have a very mature outlook on the theater industy," said Hopkins, who performed the role of Morocco in "The Merchant of Venice." "They know that it's not about being famous. It's about being respected for what they do on stage."
The Houston Shakespeare Festival Conservatory began in 2011. Since its inception, students have learned from both UH faculty members and award-winning actors that have appeared on both Broadway and the big screen.
- By Mike Emery