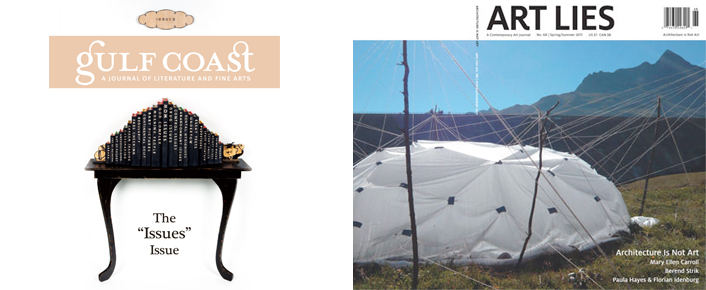 Gulf Coast and Art Lies magazines join forces
The expanded post-merger Gulf Coast carries on the Art Lies' mission
Gulf Coast: A Journal of Literature and Fine Arts, the national literary journal produced and published by Creative Writing Program graduate students, has merged with Art Lies: A Contemporary Art Journal, one of Texas's most respected visual art magazines.
The combination of the two publications is intended to bring additional regional, national, and international exposure to the literary and visual arts culture of Houston.
"After 25 years at the forefront of nationally-distributed, student-run literary journals, this merger allows us to reaffirm our journal's longstanding commitment to serving as a journal of literature and fine arts," says Gulf Coast Editor Zachary Martin.
Since its founding in 1986, Gulf Coast has published contemporary literature alongside visual art that showcases work being produced in the Gulf States region of the United States – Texas, Louisiana, Mississippi, Alabama and Florida.
The journal is published twice a year and has experienced steady growth since its inception, increasing its print run from 1,000 to 2,500 in the last decade.
Some of the journal's contributors have gone on to be selected for publication in prestigious anthologies, including Best American, PEN/O. Henry, and Pushcart.
Started in 1994 as a bimonthly journal covering the Houston arts scene, Art Lies expanded its mission to include state, regional, and national coverage. Art Lies was distributed via bookstores, museum shops, and galleries across the country and ceased production in 2011 after 17 years in operation.
In the letter announcing the publication halt, the Art Lies board of directors wrote: "Through sixty-eight printed issues and related programming, we elevated recognition of Texas as a place where significant contemporary art is not only produced but also written about and discussed eloquently and professionally."
The merger of the two magazines ensures that Art Lies' mission of putting Texas artists, curators, scholars, and critics in touch with their peers will continue. The combined publication will exist under the Gulf Coast name.
In this new iteration, however, UH School of Art students and faculty will staff the greatly expanded art section of Gulf Coast. The journal will now dedicate 40 pages to contemporary art – 26 pages featuring writing that critiques art and design and 14 pages displaying curated visual art.
Dr. Jenni Sorkin, assistant professor of art history at the School of Art, served as art editor for the first issue of the merged journal. Her own critical work has appeared in New Art Examiner, Art Journal, Frieze, The Journal of Modern Craft, Modern Painters, and Third Text.