Jewish Studies honors three students with 2019 achievement awards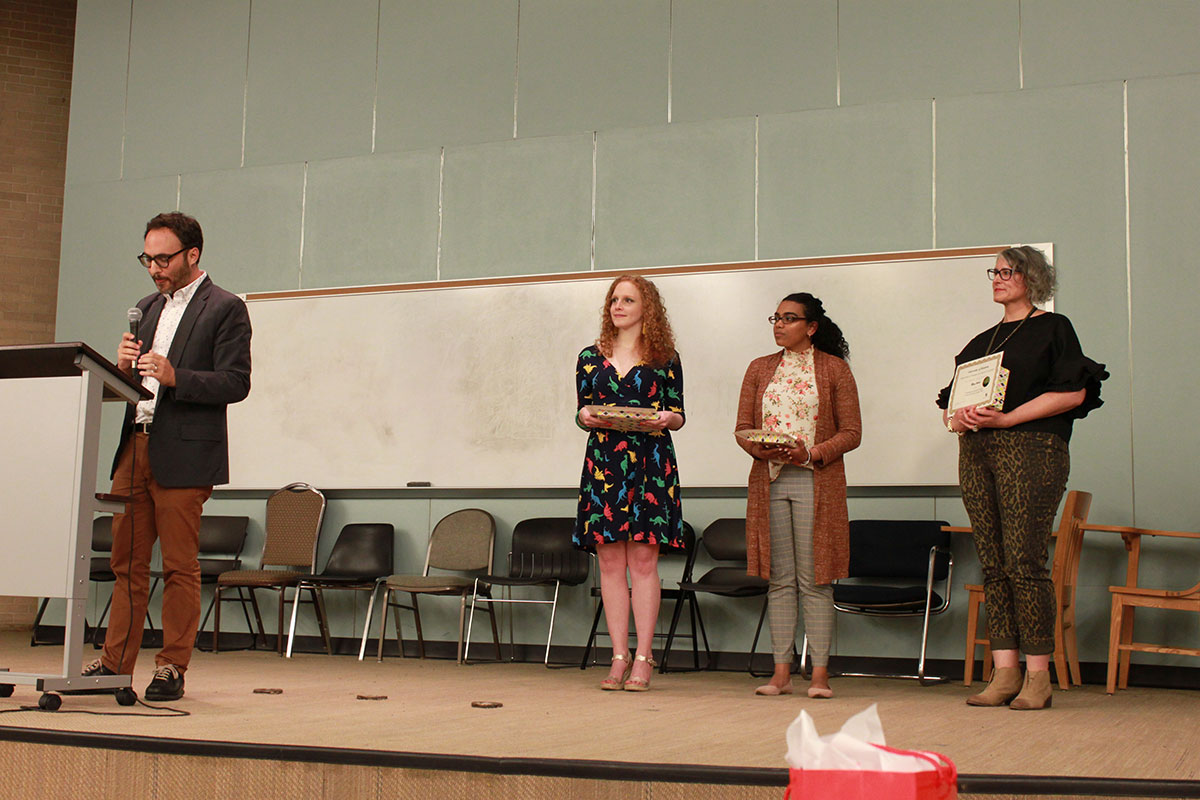 From program director Dr. Mark Goldberg:
Our first award recipient is Muktha Nair. I first want to quote our colleague Dr. Tamber-Rosenau: "Muktha's commitment to her studies is obvious: she is always present and punctual, participates meaningfully in class activities, takes assignments seriously, and excels at group projects. [She] writes clearly, concisely, and with style, and she is confident enough to write entertainingly as well." She excelled in her assignments, demonstrating creativity in multiple ways. In Dr. Tamber-Rosenau's Women in the Hebrew Bible/Old Testament course, Muktha brought together solid critical thinking with literary imagination in her writing. In one assignment, instead of choosing to write a traditional essay, she produced a midrash, an expansion on the biblical text, for the creation stories in Genesis. For another assignment, Muktha responded to Dr. Tamber-Rosenau's prompts about Anita Diamant's novel The Red Tent -- "Is Diamant's midrash a feminist one? Can the redefinition of (possible) sexual assault as consensual sex be a feminist enterprise?" – with a poem. In her accompanying essay, Muktha wrote, "By giving her a form, thoughts, a voice, a life, Diamant is ensuring that Dinah's name lives through the eras to come. All we can give to Dinah is a lasting place in the thoughts of humanity—not as an object of debate, but as a Woman." Dr. Tamber-Rosenau has submitted the work for publication in the Jewish feminist magazine Lilith and is waiting to hear back. This creative merger of past and present, of looking at ancient and contemporary writings to learn something about our world is what we strive for as scholars.
Our second award recipient is Anna Rech. Earlier in the semester, our colleague Rabbi Kenny Weiss alerted me to an exceptional student in his Rabbinic Biblical Interpretation course as a potential Jewish Studies minor, someone the program should actively recruit. Talking about Anna, he wrote, "She submitted a paper … that is, without exaggeration, one of the best papers I've ever seen as an instructor at UH." These biblical interpretive assignments are tricky to say the least. They require close, critical analysis of translated writings and religious commentary, and to be understood, the sacred texts need to be placed in the context of the ancient societies in which they were produced. I want to show you what I mean with a sentence from one of Anna's essays. It seems inconsequential in a way, but it speaks to the brilliant work. Examining a text on the ancient Jewish exile to Babylon, as part of the overall analysis, Anna asks the following question: in the beginning of the text, why did the author repeat the word "unclean" in succession? She uses this sentence to evaluate the problematic chronology behind the text to understand what rabbis were saying about the Babylonian exile. This fine-tuned literary analysis is what we want out of our students. Anna's careful and close reading of biblical texts reflects the care and engagement she demonstrated in her Jewish Studies education. 
Our third award recipient is Tiffany Sladish. According to Dr. Tamber-Rosenau, "Tiffany is the kind of student a professor wants to have in every class. She is a serious student who thinks deeply about course material and asks relevant, well-informed questions." One of the hard parts about teaching is building a classroom environment for serious discussion that flows. Tiffany is an example of the ideal student with initiative who asks pointed, respectful questions that get to the heart of the material. She is also the ideal contributor who helps move the conversation forward. According to Dr. Tamber-Rosenau, she also takes risks in her work, which is not only key for individual learning; such risk-taking pushes the analysis in ways that ultimately teaches us all, including the professors. In a wonderful, serendipitous note, Tiffany and Muktha partnered on a project last semester on cultural representations of Abigail (one of David's wives) that was extremely creative and, not surprisingly, shined.