Doctoral Progam in Obesity Studies

Ph.D. in Kinesiology with an emphasis in Obesity Studies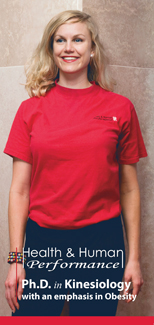 View brochure
Obesity has been recognized as an epidemic by scholars, and lay audiences. It is arguably the single most pressing public health challenge facing the United States today. HHP uses a multilevel approach to the Ph.D. in Kinesiology with emphasis in obesity studies. The track includes faculty with research expertise spanning from the cell to society - including biological, behavioral, sociocultural, psychological and environmental perspectives, while also identifying and understanding the precursors, correlates, effective interventions and consequences of obesity. The translational obesity studies curriculum offers a unique, comprehensive approach to the public health issue particularly germane to our times.
The Ph.D. in Kinesiology with an emphasis in obesity studies program is designed for:
Administrators or scientists in public health environments (CDC, NIH, WHO)
Advisors or employees in government agencies (state boards of health or education, urban planning boards)
Neighborhood, city, regional state or national program or center directors
Basic and translational scientists in physiology, exercise physiology, psychology, and medicine
Educators at all levels
Faculty researchers.
Obesity Studies Faculty
Dr. Daphne Hernandez

Research has focused on family-related factors, such as poverty and family structure, and their influence food insecurity and food assistance program participation and how family-related factors and participation in public assistance programs influence child and adult health outcomes.
Full profile and publications

Dr. Craig Johnston

Research focused on behavioral treatment of obesity and related diseases. One of his primary areas of research within the treatment of obesity is the development of school-based interventions.
Full profile and publications

Dr. Tracey Ledoux

Research focused on developing effective obesity prevention interventions that target psychosocial mediators to mitigate the impact of the obesigenic environment and the natural rewarding properties of food on the individual among families in the earliest years of development. Related to these ultimate research goals are identifying 1) mediators to overeating, 2) effective behavior change strategies, and 3) valid/reliable measures of these variables.
Full profile and publications

Dr. Daniel O'Connor

Evaluation of subject-level outcomes and effects; measurement of health, health-related quality of life, and health-related behaviors; measurement error, validity, linear models, and latent variable models.
Full profile and publications

Dr. Cynthia Y. Yoon

Research is centered on social behavioral epidemiology, in particular the epidemiology of obesity, reducing obesity by preventing maladaptive eating and encouraging adaptive eating. Improving these behaviors by identifying psychosocial risk and protective factors that will be translate into interventions.
Full profile and publications