Learn how museums create spaces for BIPOC narratives through community partnerships, exhibitions, and education programs. Join the Holocaust Museum Houston and the UH Center for Public History for a special workshop on how core museum departments collaborate to create outstanding learning experiences for visitors. Tour the Holocaust and Human Rights Galleries and get the chance to learn from a diverse group of museum professionals.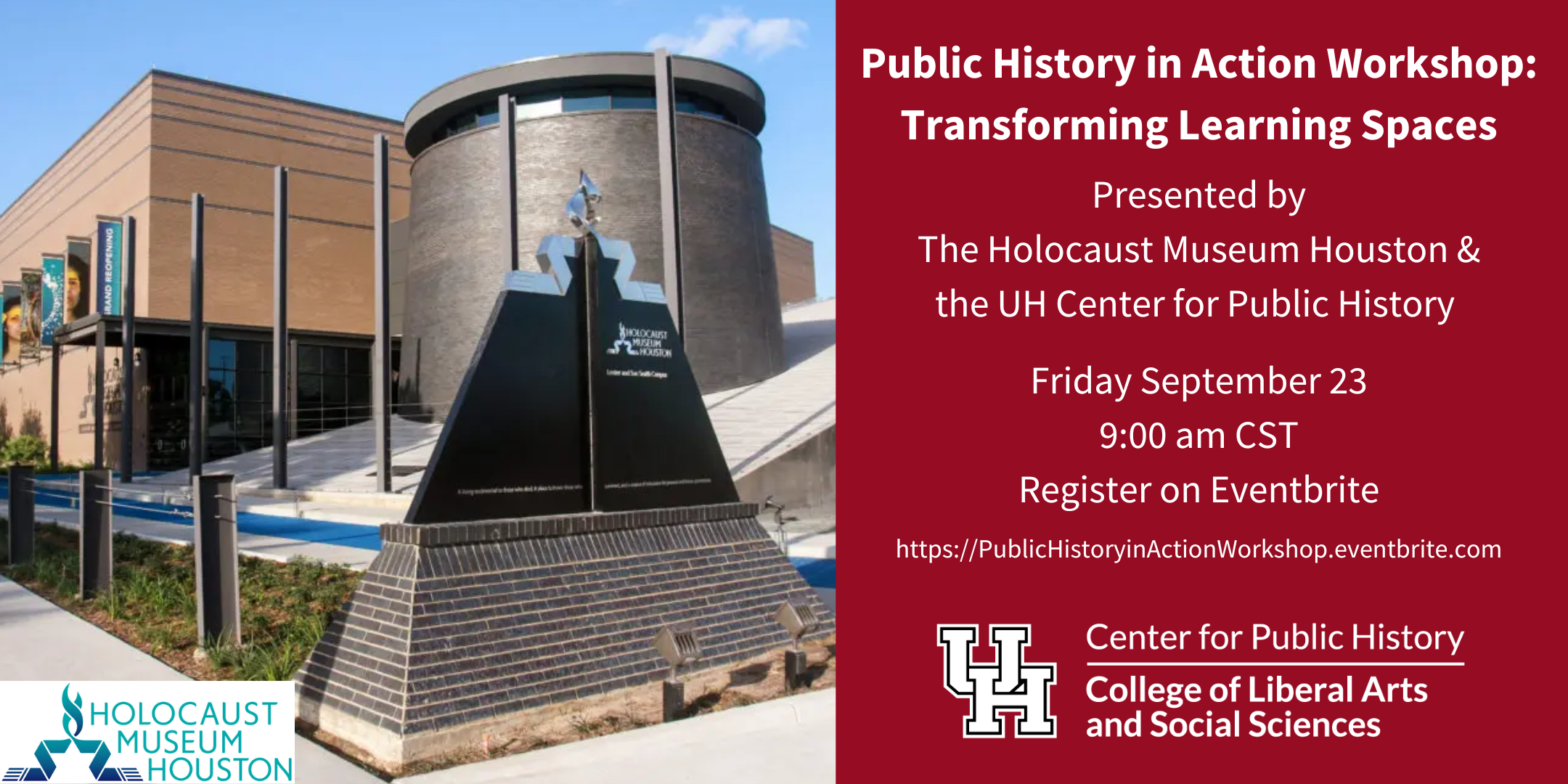 Tickets for this event are limited, so please register on Eventbrite to secure your spot for this exciting workshop. 
https://www.eventbrite.com/e/public-history-in-action-workshop-transforming-learning-spaces-tickets-398936488777 
This workshop will provide participants with the opportunity to:  
Learn how exhibitions are created and developed at HMH. (Exhibits) 

Learn about the importance of artifacts and collections in museums. (Curatorial) 

Develop an understanding of inclusive programming and visitor experience. (Public Engagement) 

Activity: Who stood up for Human Rights? Participants will learn about different leaders in social justice and human rights and will create a fun activity for museum guests. (Education) 
Workshop Schedule: 
9:00-9:30 a.m. Breakfast (Coffee, light pastries, introductions)  
9:30 a.m.-11:00 a.m. Tour Holocaust Gallery and Human Rights Gallery with Museum Docents  
11:00 a.m.-12:00 p.m. Debrief/Activity on Human Rights  
12:00 p.m.-1:00 p.m. Lunch (boxed lunch), Visit Mincberg Gallery (Optional)  
1:00-3:00 p.m. Afternoon workshop: Collaborative Efforts in Museum Work 
Morning and afternoon raffle.