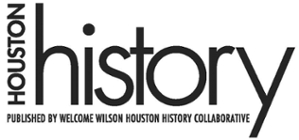 Houston History, a  magazine published by the Center for Public History at the University of Houston, is the voice of history and culture throughout the Houston area. It aims to provide Houstonians with the opportunity to learn about all aspects of Houston's history. The articles published will seek to educate and entertain while exploring important aspects of Houston's history and culture.
---
Although Houston is prone to flooding, Hurricane Harvey was a storm – quite literally – of historic proportions. Almost every Houstonian was impacted either directly or indirectly by its damage. Those of us at the University of Houston Center for Public History who frequently conduct and work with oral histories immediately realized the importance of oral history as a tool to document the stories of people who might otherwise be overlooked but who can shed light on the storm beyond the statistics. Thus, the Resilient Houston: Documenting Hurricane Harvey project was born. 
Three of our faculty taught classes related to Harvey: Dr. Mark Goldberg, who teaches history and is director of Jewish Studies at UH, focused on Meyerland and the Jewish community at a graduate oral history class; Dr. Todd Romero, history professor and associate dean of CLASS, taught a capstone class for undergraduate history majors, and Dr. Debbie Harwell taught the Voices from the Storm class, which created the Resilient Houston website, and a history writing class, where students wrote the articles for this issue of Houston History. Students in these classes interviewed over ninety storm survivors, responders, and volunteers to capture the heartbreak and the resilience of Houstonians.
 To purchase a copy of the magazine, please visit www.houstonhistorymagazine.org and click "Buy Magazines."