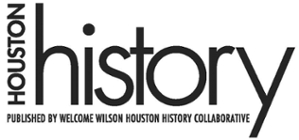 Houston History, a  magazine published by the Center for Public History at the University of Houston, is the voice of history and culture throughout the Houston area. It aims to provide Houstonians with the opportunity to learn about all aspects of Houston's history. The articles published will seek to educate and entertain while exploring important aspects of Houston's history and culture.
---
As the Offshore Technology Conference (OTC) celebrates its golden anniversary, the current issue of Houston History looks back at OTC's activities and reflects on how they have helped Houston emerge as "the energy capital of the world" while boosting the region economy. Held annually in Houston, OTC has become a central part of the global offshore industry by providing a place to discuss the latest advances in technology, to network with colleagues, and to attend exhibitions of the latest equipment developed to help move the offshore industry into deeper waters in harsher environments. We have published several single-topic issues of the magazine on other significant Houston institutions celebrating milestones, notably the Texas Medical Center, the Johnson Space Center, the Houston Livestock Show and Rodeo, the University of Houston, the Houston Ship Channel, Houston Emergency Medical Services, and the Center for Public History, our home base at UH. OTC's golden anniversary, similarly offers a fitting occasion to celebrate the history of an organization that has helped our city evolve into a mature metropolis while enhancing the lives of Houstonians.
To subscribe, read our back issues, or learn more about the magazine, please visit https://houstonhistorymagazine.org/.