Sharon Hill, Program Director
Sharon Hill is the Director of the ASLI program and an Instructional Assistant Professor. She has been interpreting professionally for over 20 years and is a Master Level interpreter, which is the highest level of interpreting certification awarded by Board for Evaluators of Interpreters (BEI). She also holds Level IV and Medical Interpreter certification.   She has completed doctoral work in the Interpretation and Translation Studies from Gallaudet University and is currently completing her PhD in Applied Linguistics from the University of Birmingham in England.
CV is available for viewing here. | Welcome Video 

---
TBA – Lab Supervisor / ASL Coach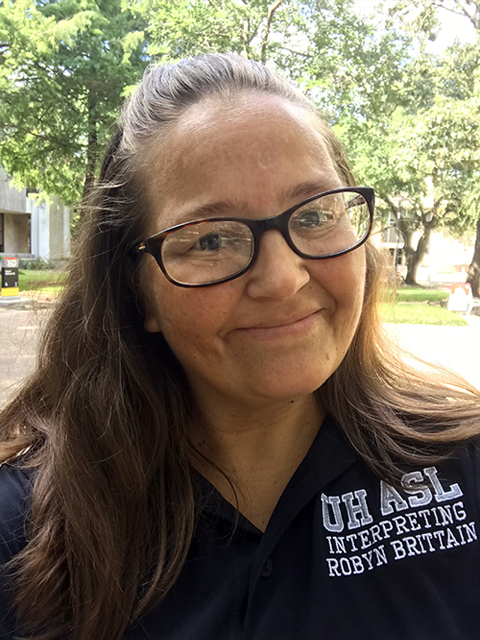 Robyn Brittain, M.A., Adjunct Faculty
Robyn Brittain received her master's degree in deaf studies and deaf education from Lamar University. She has been teaching deaf education and ASL in high school since 2007 as well as teaching at UH since 2012. Plus, she is the ASLI coach for UH national anthem for the past several years.



Terrell Brittain, Instructional Assistant Professor
Terrell Brittain is a graduate of the master's degree program in deaf studies and deaf education at Lamar University. He is an accomplished teacher at both the secondary and higher education levels. His expertise is in American Sign Language and deaf culture. He is known for incorporating humor into his teaching, putting his students at ease as they learn the complicated task of communicating in a visual modality. Terrell's major focus is deaf studies.

Welcome Video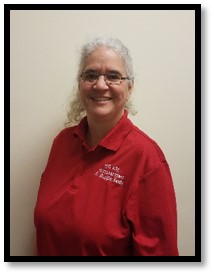 Merrilee Gietz, Instructional Associate Professor
Merrilee "Mizzy" Gietz was raised and educated in Alberta, Canada. She has been teaching students in American Sign Language (ASL) interpreting programs in higher post-secondary education for nearly 20 years. Gietz has made several conference and workshop presentations on topics such as ASL haikus, ASL depictions and various topics related to ASL teaching and interpreting. She earned her Ed.D. degree in deaf studies and deaf education, 2013 at Lamar University in Beaumont, TX. View her full bio here.

Welcome Video
John Marcelle, Jr, M.A., Adjunct professor
John Marcelle, Jr received his master's degree in Deaf Studies and Deaf Education from Lamar University in 2007. He has been teaching Regional Day School for the Deaf (RDSPD) in High and Middle Schools for ten-plus years and taught at Model Secondary School for the Deaf (MSSD) in Washington, DC, for four years as an American Sign Language (ASL). In addition, he taught at Houston Community College as an American Sign Language II instructor. He has made the workshop presentation on the topic "What Are The Black Interpreters?" for the National Alliance of Black Interpreters, Inc. (NAOBI) in Washington, DC. He continues to teach American Sign Language I, II, and III in the Communities (churches, schools, interpreters, and family and friends). He is writing a book about his young sister, who passed four years ago. He is passionate and motivated to teach American Sign Language (ASL) in both K-12 and postsecondary environments.  John firmly believes in supporting those that want to learn and understand the Deaf, Hard of Hearing, and Deafblind communities and cultures.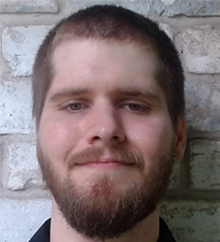 Robert Todd, Lab supervisor/program assistant
Robert Todd is the lab supervisor / program assistant (part-time) for the American Sign Language Interpreting Program and is primarily responsible for providing administrative support for the program director and the program's faculty. Todd graduated from Gallaudet University in 2015 with a B.A. in sociology and received the Wright's Mills Award in Sociology. He previously worked as a high school ASL teacher for Fort Bend Independent School District with additional experience in deaf education support. He is currently pursuing a post-baccalaureate degree in philosophy at the University of Houston.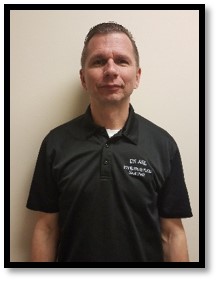 Scot Pott, Instructional Associate Professor
Remembering Dr. Scot Pott (1964-2022)
Dr. Pott worked at University of Houston for almost a decade. He was an associate professor in our American Sign Language Interpreting program. Dr. Pott was passionate about American Sign Language (ASL) and training people to become interpreters. He earned his bachelor's degree from Gallaudet University in Washington, D.C., master's degree of Public Health from the School of Public Health at The University of Texas Health Science Center - Houston, and educational doctorate's degree in Deaf Studies and Deaf Education from Lamar University in Beamont, TX.  Dr. Pott taught ASL courses throughout Texas, Nevada, and Michigan for 25 years. His students appreciated patience, his willingness to explain things in multiple ways, and his larger-than-life energy in the classroom. His colleagues and students were inspired by his dedication to teaching, his commitment to expanding acceptance and accessibility, and his willingness to always fight for what is right. He was also active in a variety of Deaf organizations, including the Texas Association of the Deaf. In 2021, the organization honored him with an outstanding achievement award. He was also a member of as a Texas Board of Evaluator of Interpreters (BEI) rater for both Michigan and Texas. We miss him dearly, and we move our best to continue his legacy through our ASLI program at University of Houston.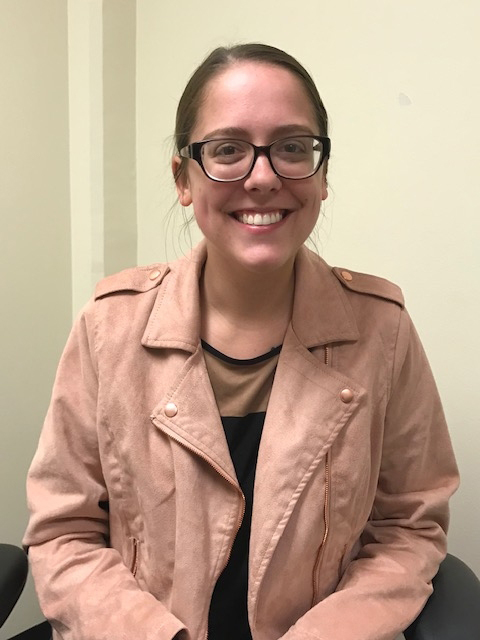 Jessica Zoll, Program Advisor
Jessica Zoll graduated from the University of Alabama with a Bachelor of Arts in public relations. She moved to Pensacola, Florida after graduation and began her career working in higher education. She worked as an admissions counselor at the United States Sports Academy in Daphne, Alabama and then went on to work as an academic advisor at Pensacola State College. She has worked extensively with first time in college students as well as non-traditional students. In her spare time, she loves walking her dog Samson, reading and cooking new recipes.