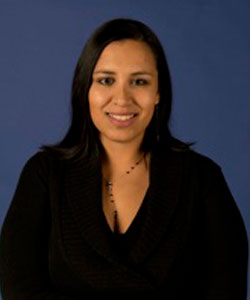 Visiting Scholar
Email: gsanch35@Central.UH.EDU 
Download CV
Education
Ph.D. Sociology, Brown University
M.A. Sociology, Brown University
B.A. International Relations, El Colegio de San Luis
Biography
Gabriela Sánchez-Soto received her Ph.D. and an M.A. in Sociology from Brown University, where she also specialized in Population Studies. Her research focuses on the influence of migration on the outcomes of immigrants and their families. Her recent work has focused on the occupational status of Latin Americans in the U.S. as well as on the educational outcomes of young people in Mexico and in the U.S. She will be a visiting scholar at the Center for Mexican American Studies where her work will focus on the intersection between educational achievement and family formation among young Mexicans in the U.S. She has previously held positions at the University of Texas at San Antonio and at Princeton University.
Research Interests
Migration and Immigration
Education
Children and youth
Family
Affiliations, Organizations and Links
Selected Publications
Gabriela Sánchez-Soto, Andrea Bautista-León, and Joachim Singelmann. 2018. "The return-on-education gap between Hispanics and non-Hispanic whites." Papeles de Población, 24(98):245-268.
Gabriela Sánchez-Soto and Andrea Bautista León. 2018. "En búsqueda de su camino. Características de los jóvenes que no estudian ni trabajan en la Ciudad de México." Agustina Corica, Ada Freytes Frey and Ana Miranda (eds.) Entre la educación y el trabajo: la construcción cotidiana de las desigualdades juveniles en América Latina, Buenos Aires: Consejo Latinoamericano de Ciencias Sociales.
Gabriela Sánchez-Soto. 2017 "Mexico-U.S. Migration and the Intergenerational Educational Mobility of Youth in Mexico." Papeles de Población 23(93), pp. 95-126.
Gabriela Sánchez-Soto and Joachim Singelmann. 2017. "The Occupational Mobility of Mexican Migrants in the United States." Revista Latinoamericana de Población 20(11):55-78.
Orly Clerge, Gabriela Sánchez-Soto, Jing Song and Nancy Luke. 2017. "'I Would Really Like to Go Where You Go': Partners of Graduate Students as Tied Movers." Population Space and Place, 23(2).