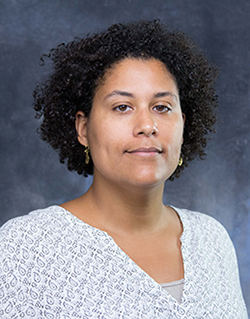 Old Science Building, Suite 230
713.743.1339
raquinn@uh.edu
Download CV
Bio
Rachel Afi Quinn is an associate professor in the Department of Comparative Cultural Studies and the Women's, Gender & Sexuality Studies Program at the University of Houston. Her transnational feminist cultural studies scholarship focuses on mixed race, gender and sexuality, social media and visual culture in the African Diaspora. Her first book, "Being La Dominicana: Race and Identity in the Visual Culture of Santo Domingo" was published in 2021 by University of Illinois Press. She was part of a filmmaking team that produced the 2015 documentary "Cimarrón Spirit" about contemporary Afro-Dominican identities, and her related essay "'No tienes que entenderlo, solo respetalo': Xiomara Fortuna, Racism, Feminism and Other Forces in the Dominican Republic" was published in The Black Scholar. Her essay, "Spinning the Zoetrope: Visualizing the Mixed-Race Body of Dominican Actress Zoe Saldaña" was published in Latin American and Latinx Visual Culture. She has also written about queerness in the Dominican Republic for Small Axe and on African photography for Burlington Contemporary. She was a recipient of the 2018 Ross M. Lence Award for Teaching Excellence in the College of Liberal Arts and Social Sciences and a 2018-19 Career Enhancement Fellowship from the Woodrow Wilson Foundation. She was also a co-founder of the social justice feminist collective South Asian Youth in Houston Unite (SAYHU) and a co-creator of the UH Critical Disability Studies Initiative.
Dr. Quinn was the recipient of a Schomburg Center for Research in Black Culture Fellowship in 2022-23 and received a 2023-2024 NEH Faculty Award for her second book project, a black feminist biography of mixed race musician and journalist Philippa Duke Schuyler. 
Education
Ph.D. and M.A. from the Program in American Culture, University of Michigan, Ann Arbor
B.A. in African American Studies (concentration in Cultural Anthropology), Wesleyan University, Middletown
Research Interests
Transnational Feminist Cultural Studies
African Diaspora Studies
Critical Mixed Race Studies
Race & Visual Culture
LGBT Activism in Latin American and the Caribbean
Dominican Studies
Black Female Masculinities
Digital Humanities and Community-Engaged Scholarship
Selected Publications
"Public Scholarship as B(l)ack Talk: African Feminist Collaborations in the Academy and Online," Rachel Afi Quinn and Maurine Ogbaa. Ch. 3 in Global Black Feminism: Cross Border Collaboration Through an Ethics of Care, eds. Andrea Baldwin and Tonya Haynes. August 28.
"Being La Dominicana: Race and Identity in the Visual Culture of Santo Domingo." University of Illinois Press, 2021.
"In Praise of the Lorgian Margin" on Ethnic Studies Rise, eds. Raj Chetty and Katerina Gonzalez Seligmann. December 2019. 
"Dominican Pride and Shame: Gender, Race and LGBT Activism in Santo Domingo" to Small Axe: A Caribbean Journal of Criticism. 56 (Vol. 22, No. 2), 128-143.
"'No tienes que entenderlo, solo respetalo ': Xiomara Fortuna, Racism, Feminism and Other Forces in the Dominican Republic" in The Black Scholar. 2015.
"This Bridge Called the Internet: Black Lesbian Feminist Organizing in Santo Domingo" in Transatlantic Feminisms: Women and Gender Studies in Africa and the African Diaspora, eds. Akosua Adomako Ampofo, Cheryl R. Rodriguez, and Dzodzi Tsikata. Lexington Books. 2015.
"The Combination of the Two," in Other Tongues: Mixed Race Women Speak Out, eds. Adebe DeRango-Adem and Andrea Thompson, 133-137. Toronto, ON: Inanna Publications and Education Inc. 2010.
Pedagogical Approach
In my courses, students become active and critical readers and thinkers by getting out of their comfort zones. They examine the intersections of race, gender, sexuality, class, disability and more. I use film and literature in my courses to teach about the ways identity is both personal and political. I train students in becoming curious researchers, prepared to apply new knowledges and theories. I strongly encourage students to attend on-campus events and engage in off-campus activities, to connect with and learn from their communities within and beyond the classroom.
UH Courses
Gender, Society & Feminist Theory (WGSS3350/ANTH3347)
Feminist Theory and Methodology (WGSS6301)
Gender and Transnational Studies (WGSS3350/ANTH3347)
Brown Girls, Brown Stories: Black Female Protagonists in Novels and Films (

ANTH3396/WGSS3322

)
Links
IA@UH Working Group - A UH collaboration with the national organization Imagining America to foster public scholarship 
Black. Migration. Houston.

–

an interdisciplinary working group and digital humanities project centering blackness in the study of migration
#Ferguson 

–

Resources on this topic are available on the women's, gender & sexuality studies website. 
UH Critical Disability Studies Initiative

–

A resource page and speaker series on the Women's, Gender & Sexuality Studies website.
CV 

– 

Curriculum Vitae