Sigma Nu Fraternity Re-Chartered at the University of Houston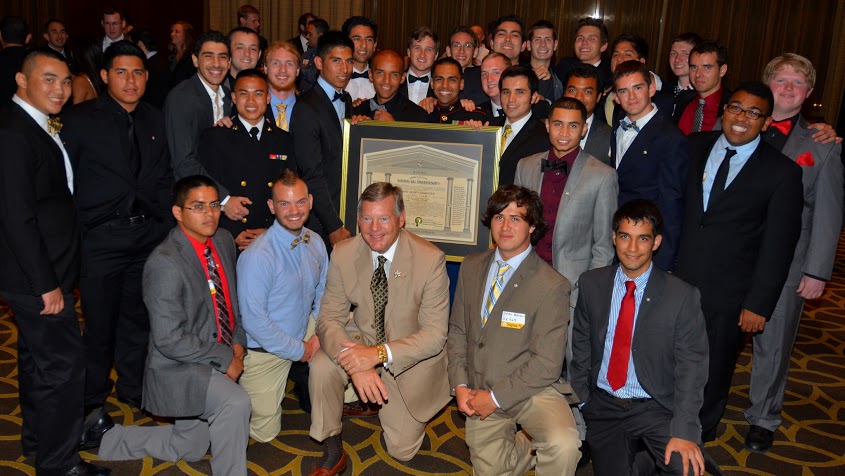 On Saturday, April 27th, 2013, members, alumni, and guests gathered at the University of Houston Hilton Hotel and Conference Center to celebrate the re-chartering of the Zeta Chi chapter of Sigma Nu fraternity at the University of Houston. Members and guests were joined by representatives from the International Fraternity including Charles Eitel, Regent (President) of the International Fraternity. The Zeta Chi chapter of Sigma Nu was originally founded as the Cavalier Fraternity in 1948 and became part of Sigma Nu International Fraternity in 1956, making it one of the first fraternities established at UH. After leaving campus in 2007, the fraternity returned in Fall 2011 as staff from the fraternity headquarters arrived on campus and began recruiting men to revitalize the chapter.
"Sigma Nu is a great addition to our growing fraternity & sorority community." said Jason Bergeron, Director of the Center for Fraternity & Sorority Life. "The leadership of the Zeta Chi chapter have worked incredibly hard to share and perpetuate the core values of Sigma Nu with the UH student body. Their commitment to leadership and service has not gone unnoticed, and we look forward to how they will continue to set high expectations for their members and the UH Greek community."
Israel Cruz, the current chapter president of the new Zeta Chi chapter discussed his journey in bringing Sigma Nu back to campus. "I'm really proud of where we were able to take our fraternity no matter what obstacles we were faced with. Even though we had to wait four semesters for the grand prize it was all worth it the moment we fully initiated. Starting a fraternity from the ground up was really difficult but at the same time really fun. Not only were we able to incorporate traditions our alumni did but we were able start new traditions and put little twists on the older ones. As Eminent Commander my job for next semester will be to make sure we assimilate well with Greek as a chartered organization and making sure we don't lose focus on our values and what we worked so hard to build. I am very proud of all of my brothers and they keep me motivated to want to keep pushing to give them the best. Love. Honor. Truth."
The mission of the Center for Fraternity & Sorority Life: Through close collaboration with students and other stakeholders, the Center for Fraternity & Sorority Life (CFSL) empowers the growth of high achievers and values-based leaders by providing a measurable, meaningful, and transformative fraternity & sorority experience. With a commitment to individual student development, the Center creates opportunities for lifelong relationships, innovative thinking, civic engagement, and overall student success.
The mission of Sigma Nu fraternity is to develop ethical leaders inspired by the principles of Love, Honor and Truth. To foster the personal growth of each man's mind, heart and character. And to perpetuate lifelong friendships and commitment to the Fraternity. Headquartered in Lexington, Virginia, Sigma Nu Fraternity was founded in 1869 at Virginia Military Institute in Lexington. Sigma Nu currently has 172 active chapters and colonies on college campuses throughout the United States and Canada, and has initiated over 230,000 members since its founding.