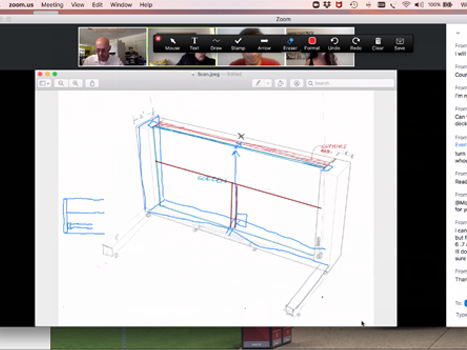 With the impact of the COVID-19 outbreak, learning institutions across the educational spectrum have quickly adapted to a new way of teaching. Still, for the University of Houston Gerald D. Hines College of Architecture and Design, the transition has been more involved. The College's unique studio-centric curriculum has been a challenge to replicate remotely; however, faculty are stepping up to give students the best education possible during these unprecedented circumstances. 
"I miss having the studio environment because it is unlike anything else," said sophomore Industrial Design student, Anne-Elizabeth Baker. "In studio, you can bounce ideas off of your classmates and get feedback more easily." 
Baker and her brother, a senior technical theatre student, are feeling the struggle accompanying remote instruction for design-specific disciplines. For first-year architecture student, Ariyan Fouladvand, apprehension is building as he thinks about how COVID-19 will impact the future of his academic career. 
"I am a little bit nervous because I feel like we are getting behind," shared Fouladvand. "It concerns me that we are not going through what other students before us experienced." 
Lisa Evans, a fourth-year architecture student and the President of the American Institute of Architecture Students (AIAS) University of Houston Chapter, has similar sentiments about the human-centered interactions usually thriving in the studio. Her working style and personality have had to adapt to the new studio experience. 
"It has been difficult because I am the kind of person that needs to be in studio to focus," said Evans. "I know I do not work well from home, and I still do not work as well from my dorm room. I have had to learn how to work more independently." 
Amid student's anxiety, Hines College faculty have made significant strides to retain some semblance of the studio culture amidst distance learning.  
Professor Nora Laos quickly adapted teaching styles for her two very different classes – one class with 155 students and another with 17 students. Throughout the process, she learned to prepare her course content in a way that best serves students remotely. 
"When my students start to get worried, I tell them, 'I don't know how to do it either – don't panic!'" said Laos. 
Professors, like Laos, have worked tirelessly to recreate the studio environment for students despite their separation from each other. Many meet regularly with their students through platforms such as Microsoft Teams and Zoom to encourage collaboration and feedback. Faculty have also discovered new ways to utilize these platforms where they actually gain access to student's computers and give them personal demonstrations. Other faculty have made themselves available through regular virtual office hours. Overall, faculty have striven to be more accessible for students during this time. 
Industrial Design Professor Mark Kimbrough has balanced his studio time with students by arranging weekly reviews for senior thesis students. Still, he also has the challenge of teaching two drawing classes – analog and digital, which requires a more hands-on approach. 
The impact of COVID-19 has also brought insight into new, innovative opportunities.  Alan Bruton, Professor and Director of Interior Architecture, has envisioned and implemented new practices for students that better prepare them for their future careers. 
"I have switched the outcome of my studio to be individual websites of each student's designs, rather than a presentation of prints and physical models," said Bruton. "My students this semester are graduating seniors who want to be able to show their work to the world immediately." 
COVID-19 has undoubtedly brought to the forefront the challenges of design education. At the same time, Hines College faculty and students have risen to the occasion as they strive to form and become the next generation of exceptional designers.