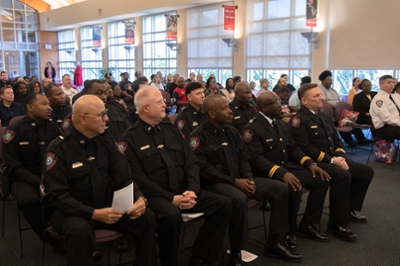 The UHPD Winter Leadership Retreat is an annual event for UHPD supervisors and managers to come together to reflect on the previous year's lessons, accomplishments, and to discuss important topics that will shape the direction of the department in the coming year.  
The retreat took place on Wednesday, January 11th, at the UH Hilton Hotel. The topics discussed included the Chief's Strategic Vision for the department, the impact of the University's first Big 12 season on the department, staffing updates, officer mental health, and more. Attendees had the opportunity to provide feedback and input on these and other topics.  
"Leadership is about bringing people together to achieve a common goal, and the UHPD Winter Leadership Retreat is a prime example of that. We come together as a team to discuss and shape the direction of our department, and it's a valuable opportunity for us to gather input and ideas from all levels of leadership," said Chief Ceaser Moore. 
"We are dedicated to serving our community with integrity and excellence, and this retreat is an important step in ensuring we are doing just that."