Administration & Finance / News /
News Release
FOR IMMEDIATE RELEASE
Valarie Smith
Executive Secretary
713-743-3847
vmsmith2@uh.edu
SKYWARN Storm Spotter Training to be Held on Campus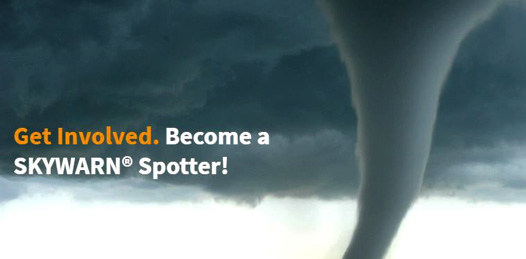 Houston, Jan. 14, 2019 —The University of Houston Office of Emergency Management will host the National Weather Service's SKYWARN Storm Spotter Training March 5 on the UH campus.
SKYWARN Storm Spotters are a group of trained volunteers who learn to view the skies during severe weather and relay reports back to the National Weather Service. From cloud formations to changes in the wind, the spotters learn what the warning signs are and the importance of sharing that information with the National Weather Service.
"The SKYWARN Storm Spotter training teaches severe weather preparedness and increases one's awareness about these kind of hazards," said UH Office of Emergency Management Director Kelly Boysen. "Weather-related incidents are still the most common emergencies for campus and the Houston area. For this reason, we appreciate partnering with the National Weather Service each year during the spring to offer this valuable training on campus."
UH students, faculty or staff member who are interested in learning how to identify different types of severe weather conditions can sign up for the training online.
For more information about the SKYWARN program, visit the National Weather Service's SKYWARN website.
---
About the University of Houston
The University of Houston is a Carnegie-designated Tier One public research university recognized by The Princeton Review as one of the nation's best colleges for undergraduate education. UH serves the globally competitive Houston and Gulf Coast Region by providing world-class faculty, experiential learning and strategic industry partnerships. Located in the nation's fourth-largest city, UH serves more than 46,300 students in the most ethnically and culturally diverse region in the country.