Administration & Finance / News /
News Release
FOR IMMEDIATE RELEASE
Saira Treviño
Communications Coordinator
713-743-6342
Strevi10@central.uh.edu
UH's Lisa Shumate Offers Advice for a Happy Heart in New Book
Houston, April 22, 2019 — Inside the University of Houston Bookstore, Lisa Shumate sits behind a neatly decorated table stacked with her newly released book and its companion journal.
The book, "Always and Never, 20 Truths for a Happy Heart," is a "mentor in print" that aims to provide encouragement, inspiration and optimism to any age group, but it is particularly for young people who are entering into adult life and business.
"I am the mother of two children and as they were headed into their 20s, I wanted to write some advice to them that would guide them for the rest of their lives," said Shumate, associate vice president and general manager of Houston Public Media and UH alumna. "You spend so many years getting your kids to that point that time flies by, and you wonder, are they ready? How can I send them off into the world with encouragement, inspiration and the fundamental wisdom you hope you taught them over the years? So, this is where the book comes from."
What started as a 10-year journey of life lessons and 23 things that are important to everybody resulted in 20 truths of ageless help.
"I started with a blank journal and wrote words that matter, words that everyone can relate to, words that are central to the quality of life: trust, time, faith, love, forgiveness, gratitude. I came up with about 23 and edited it down to 20," Shumate said. "The books were written with young adults in mind and what they can grasp quickly and easily."
However, according to Shumate, given what is happening every day, it seems that people of all ages abandon guardrails that can protect what matters most like integrity, family, hope, faith and peace of mind.
"When this happens, often lives are shattered," she said. "As a society, we suffer a collective disillusionment and disappointment. These books address that, along with timeless truths that have power to transform."
Shumate shares that self-reflection and writing down thoughts and observations can deliver greater awareness and joy in life and can help to get unstuck and find new energy for taking action.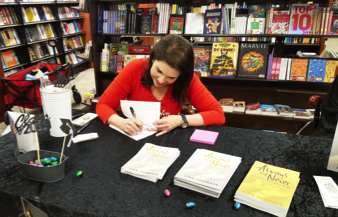 The "Companion Journal," which follows the book with self-reflecting questions, is "designed to provide insights into the habits that can sabotage development and disrupt negative, mindless routines that stifle empowerment."
As for the April 17 book signing, each book buyer was greeted with a contagious smile and individual hugs, all getting a personalized note from Shumate on the inside of the book, where she highlighted one truth from the book for each of the attendees.
"Overall, we have choices as to how we treat information. Either we can let it bring us down or move on. That's the whole idea," she said. "That at the end of it we feel more in control, more hopeful about the future and more certain about the fact that you will get the life you want."
The book and journal can be purchased on Amazon, at the UH Bookstore and online on all available formats. Her website is also a place for important information and updates on the book. A free chapter of "Always and Never" can also be found there.
Shumate hopes that "Always and Never" is the beginning to many other books that she is planning to publish in the upcoming years - all being the culmination of "many years of learning and leading from peers, teachers, friends, bosses, my university, my community and national leaders."
"I hope my book can speak to anyone that needs the encouragement," she said. "I hope this book brings comfort, joy and all the blessings of a life well-lived."
---
About the University of Houston
The University of Houston is a Carnegie-designated Tier One public research university recognized by The Princeton Review as one of the nation's best colleges for undergraduate education. UH serves the globally competitive Houston and Gulf Coast Region by providing world-class faculty, experiential learning and strategic industry partnerships. Located in the nation's fourth-largest city, UH serves more than 46,300 students in the most ethnically and culturally diverse region in the country.