Administration & Finance / News /
News Release
FOR IMMEDIATE RELEASE
Valarie Smith
Executive Secretary
713-743-3847
vmsmith2@uh.edu
As Severe Weather Season Nears, UH Community Should be Prepared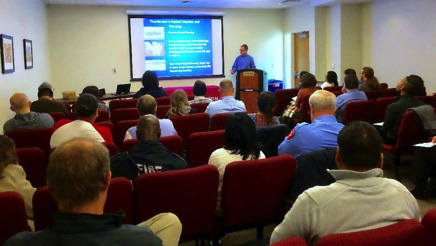 Houston, March 15, 2019 —Nearly 40 people participated in the SkyWarn Storm Spotter Training class hosted by the University of Houston Office of Emergency Management on March 5.
The SkyWarn Storm Spotter program, which began in the 1970s, trains individuals to recognize and report potentially hazardous weather conditions to the National Weather Service.
These reports, along with current satellite and Doppler radar technology, are used to assist the weather service in tracking severe weather and to provide timely warnings that help save lives and property during inclement weather.
The class held at UH was led by Dan Reilly, a warning coordination meteorologist with the weather service. It was completed just ahead of the Houston area's severe weather season. In Houston, the spring season is typically associated with stormy weather, which can include hail, strong winds, lightning strikes, intense rain, flash flooding and tornadoes.
In order to understand severe weather hazards and how to remain safe during these situations, here are some quick safety tips:
Tornado: Tornadoes are violently rotating columns of air that can destroy buildings and cause significant injury or death.
ACTION: Take shelter immediately in a sturdy structure in the event of a tornado warning.
Large Hail: Hail can cause injuries and damage vehicles and buildings.
ACTION: Move indoors and away from windows.
Strong Winds: Strong winds can knock over trees and damage buildings.
ACTION: Move indoors and away from windows.
Heavy Rain: Heavy rain can cause flash flooding.
ACTION: Avoid rising creeks, bayous and water-covered roads. Remember: Turn around, don't drown!
Lightning: Lightning strikes can cause significant injury or death.
ACTION: Move indoors if you hear thunder, and stay away from objects like trees and telephone poles.
If you are interested in more information about severe weather preparedness, visit the Office of Emergency Management's Be Prepared website or the weather service's Spring Safety website.
---
About the University of Houston
The University of Houston is a Carnegie-designated Tier One public research university recognized by The Princeton Review as one of the nation's best colleges for undergraduate education. UH serves the globally competitive Houston and Gulf Coast Region by providing world-class faculty, experiential learning and strategic industry partnerships. Located in the nation's fourth-largest city, UH serves more than 46,300 students in the most ethnically and culturally diverse region in the country.