Administration & Finance / News /
News Release
FOR IMMEDIATE RELEASE
Cindy Granier
Administrative Assistant
713-743-0612
cgranier@uh.edu
Safety Manager Discusses Air Quality with UH-Downtown Students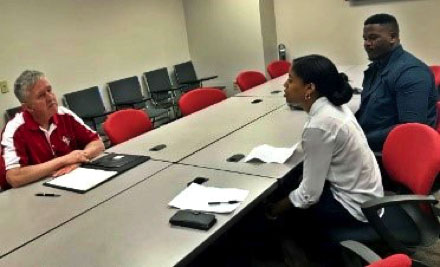 Houston, May 3, 2019 - When an Environmental Chemistry class was assigned a class project at the University of Houston-Downtown, the professor, Houston Brown, suggested students contact UH Environmental Health and Life Safety to discuss air quality in the greater Houston area.
The students met with Safety Manager Emmett Sullivan on April 16 as a recommendation from Brown to interview various air quality stakeholders in the region.
Sullivan talked about maintaining compliance with applicable air emission rules for the University. The discussion then moved toward general air concerns in the Houston area.
Texas Commission on Environmental Quality resources available online that report ground level ozone concentrations and other air contaminants were discussed.The students asked for Sullivan's thoughts on what steps individuals could take to improve the local air quality. He mentioned carpooling, mass transit and biking as options, as the collective sum of individual efforts would have a positive impact.
Sullivan said he found the discussion with the UH-Downtown students to be interesting and insightful.
---
About the University of Houston
The University of Houston is a Carnegie-designated Tier One public research university recognized by The Princeton Review as one of the nation's best colleges for undergraduate education. UH serves the globally competitive Houston and Gulf Coast Region by providing world-class faculty, experiential learning and strategic industry partnerships. Located in the nation's fourth-largest city, UH serves more than 46,300 students in the most ethnically and culturally diverse region in the country.