Administration & Finance / News /
News Release
FOR IMMEDIATE RELEASE
Richard Zagrzecki
Communications Coordinator
832-842-4722
rzagrzec@central.uh.edu
UH Printing Launches Online Ordering Service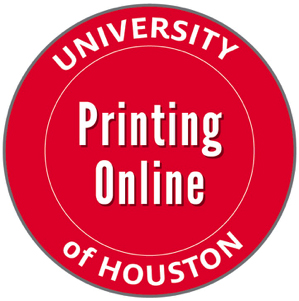 Houston, Aug. 21, 2018 - University of Houston Printing Services has launched an easy-to-use online digital storefront service for customers to fill all their printing needs, both big and small.
UH Printing Online can be accessed through UH Printing's website, or by going directly to www.uh.edu/UHPrintingOnline.
The site allows the Printing Services team to deliver their broad set of quality printing and promotional products and services directly to the student body, staff, faculty and others in a secure and consistent manner. It is ideal for student groups and organizations to order flyers and brochures for their events and activities during the academic year.
All customers will find the site convenient and simple to use, said Cesar Yulan, director of UH Printing Services.
"Orders can be placed at any time. The greatest benefit is perhaps the fact you can order what you need and complete the process in only a few short minutes," Yulan said.
The ordering process is streamlined and includes a visual document builder, which is a great feature for customers to utilize. Customers can define print specifications, order and pay for anything from flyers to banners to promotional materials and brochures.
"Not only can you easily order printed materials, but it also allows you to order what you need, get a price quote, and pay for the entire transaction at the touch of a button, all in real time," Yulan said.
After an order is placed, an experienced set of professionals from the UH Printing Services team will begin working on it that day or the next business day if it is placed on the weekend or after hours. Customers will be contacted once their jobs are ready to be picked up if they so choose. One delivery on campus is included.
Customers can still send an email, call or meet in person to handle orders. That process not only will remain in place, it is highly recommended for customers with larger, more intricate projects. Customers can find all of UH Printing's contact information online.
The new digital storefront exemplifies UH Printing's ongoing efforts to improve its customer service. It also goes hand in hand with the Division of Administration and Finance's commitment to service excellence, as well as its dedication to using innovative technology.
Printing Operations Manager Nalan Giannukos said customers are still able to call and email Printing Services, but the online service is yet one other option available to them.
"Our customers will get the same dedication and outstanding service level no matter which manner they place their orders," Giannukos said.
To find out more about the services that are offered, visit its website or read this handy brochure.
---
About the University of Houston
The University of Houston is a Carnegie-designated Tier One public research university recognized by The Princeton Review as one of the nation's best colleges for undergraduate education. UH serves the globally competitive Houston and Gulf Coast Region by providing world-class faculty, experiential learning and strategic industry partnerships. Located in the nation's fourth-largest city, UH serves nearly 43,000 students in the most ethnically and culturally diverse region in the country.