Administration & Finance / News /
News Release
FOR IMMEDIATE RELEASE
Richard Zagrzecki
Communications Coordinator
832-842-4722
rzagrzec@central.uh.edu
Printing/Delivery Team Evolves with Rebranding, Added Services and Price-Matching Policy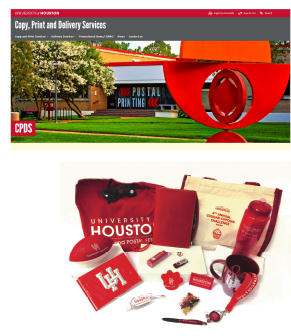 Houston, Feb. 19, 2019 - The department that has provided printing services at the University of Houston for nearly 70 years has undergone a rebranding and added new products as it repositions itself to better serve the campus community and beyond in the coming years and decades.
With February being In-Plant Awareness Month - during which the contributions of in-house design, printing, mailing and distribution professionals are recognized - now is the perfect time to educate and inform the UH community about all of the transformational changes taking place.
One involves its name. As part of the rebranding effort, the award-winning department officially became known as Copy, Print and Delivery Services during the fall semester.
New technologies, changing needs and a growing campus over the last seven decades has led to inevitable changes in what customers want. The reimagined name better reflects the evolution of those services.
"The old name served the department well for many years, but it became outdated over time and did not truly represent the wide range of services and products we now offer," University Services Executive Director Esmeralda Valdez said. "It needed to be updated, and what better time to do it than now, as we approach our 70th anniversary."
For many years, the department's services involved printing projects and mail delivery. In recent years, however, that has changed, as the department has expanded its reach and kept up with the changing needs of its customers.
Promotional items
Within the past year, the department became a full-service advertising specialty company offering a wide range of promotional products and business gifts.
The products include hundreds of items in a wide range of categories, from awards and plaques to apparel to office supplies to drinkware to table cloths.
More information about all of the promotional items can be found online. As an added bonus, customers who use the promotional item service for the first time will receive a 10 percent discount on their order.
Price matching
Copy, Print and Delivery Services continues to offer a price-matching policy on every service and product it offers. Many may not know about that policy, but the department wants to change that. It is using every opportunity to let the campus community know that it will match any price for a product or services it offers if a customer is given a lower price from another vendor.
Not only does the UH community benefit from the price-matching policy, they are in return benefiting the University as a result of the money going back to the institution.
Online ordering
Another major transformation the department has undergone involves the manner in which orders can be placed. Last fall, the department launched an online digital storefront service, which allows its customers to place orders at any time of day, seven days a week, from a computer or laptop.
The Copy and Print Online service is simple to use. The ordering process is streamlined and gives customers price quotes. Customers can use the service to fill all of their printing needs, including brochures, flyers, signage, postcards and stationery.
A visual document builder allows customers to preview their job orders. The UH community can easily order copy or printed materials, get a price for ordered products and pay for it at the touch of a button. Customers are not obligated to use the online service and can still send an email, call or meet in person to handle orders.
Experienced brand experts
Copy, Print and Delivery Services is brand certified, with its employees being knowledgeable and well versed in all brand requirements. They handle all the work necessary to ensure projects for staff and campus departments adhere to UH brand standards. Its team of loyal employees has extensive experience and knowledge.
They are located in the General Services Building. For any questions about their services and products, call 713-743-5829 or email postalservices@uh.edu. All of the department's contact information is available on its website.
---
About the University of Houston
The University of Houston is a Carnegie-designated Tier One public research university recognized by The Princeton Review as one of the nation's best colleges for undergraduate education. UH serves the globally competitive Houston and Gulf Coast Region by providing world-class faculty, experiential learning and strategic industry partnerships. Located in the nation's fourth-largest city, UH serves more than 46,300 students in the most ethnically and culturally diverse region in the country.