Administration & Finance / News /
News Release
FOR IMMEDIATE RELEASE
Christopher Clark
Marketing Assistant
832-842-9053
Christopher.Clark2@compass-usa.com
UH Dining Services Introduces Starbucks Intro Cold Brew Bike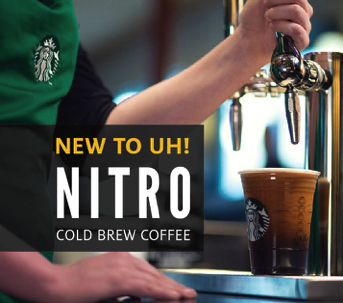 Houston, Aug. 27, 2018 — University of Houston Dining Services will introduce a Starbucks Cold Brew Bike to campus on Tuesday, Aug. 28.
The nitro bike - serving cold coffee on demand - is an officially licensed extension of Starbucks. Operated by one barista, the three-wheeled bicycle holds 2 to 4 kegs of coffee with a two tap system. The Cold Brew Bike will sell the Grande 16 ounce serving size at a price of $4.82.
It will be a permanent dining feature on campus. At first, it will be located on a wooden patio outside the Technology Annex. Because it is mobile, it can be moved to different locations. A schedule of those locations, as well as its hours of operation, are still to be determined. Make sure to check UH Dining's Facebook, Twitter and Instagram accounts for updates.
The bike features a Starbucks signature blend, with the coffee chilled automatically by the nitrogen tap. This process naturally sweetens the chilled coffee, making it a low calorie beverage.
Starbucks has installed the nitro drafts in nearly 1,000 company-operated stores across the United States, with hopes of expending the availability in more stores over the coming months. Starbucks is allowing licensed partners like retail and college campuses to sell this new product via nitro bike.
---
About the University of Houston
The University of Houston is a Carnegie-designated Tier One public research university recognized by The Princeton Review as one of the nation's best colleges for undergraduate education. UH serves the globally competitive Houston and Gulf Coast Region by providing world-class faculty, experiential learning and strategic industry partnerships. Located in the nation's fourth-largest city, UH serves nearly 45,300 students in the most ethnically and culturally diverse region in the country.