Administration & Finance / News /
News Release
FOR IMMEDIATE RELEASE
Mallory Doeckel
Communications Coordinator
713-743-6342
mdoeckel@uh.edu
UH Sustainability Successes Shared at Conference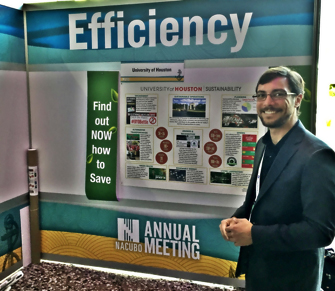 Houston, Sept. 11, 2018 - Michael Mendoza, manager of the University of Houston Office of Sustainability, presented about UH's sustainability programs during the poster session at the National Association of College and University Business Officers annual meeting.
Higher education professionals from across the country attended the session to see how other universities implement sustainability practices on their campuses.
As part of the division of Administration and Finance, the Office of Sustainability plays an important role in supporting the division's strategic goal of fostering a progressive culture of sustainability.
"We've been able to take a multi-pronged approach to sustainability on campus," Mendoza said. "Through the use of both data-driven initiatives, as well as community outreach programs, the University has been able to make substantial progress on lessening our campus's carbon footprint and educating the community about best sustainability practices."
The University has received a number of accolades for its sustainability policies. This year it received the Tree Campus USA recognition for the third consecutive year as well as the Green Restaurant certification for the two campus dining commons, which requires meeting a number of water, energy and food efficiency criteria.
UH Sustainability also has a number of programs designed to engage with the campus community and support student success. This includes events such as the electronics recycling drive where they have recycled over 5,000 pounds of electronic waste, as well as the ongoing volunteer opportunities at the campus Community Garden.
The poster presentation served as an opportunity to share UH successes in sustainability and to have impactful discussions with university business leaders from across the nation about the role sustainability can play on their campus.
"I found it uplifting that everyone there, no matter where their specific university was in the process of managing campus sustainability initiatives, all had a goal of minimizing climate impacts and truly taking steps to make change in whatever way they can," Mendoza said. Visit uh.edu/sustainability to learn more about UH Office of Sustainability programs.
---
About the University of Houston
The University of Houston is a Carnegie-designated Tier One public research university recognized by The Princeton Review as one of the nation's best colleges for undergraduate education. UH serves the globally competitive Houston and Gulf Coast Region by providing world-class faculty, experiential learning and strategic industry partnerships. Located in the nation's fourth-largest city, UH serves nearly 45,300 students in the most ethnically and culturally diverse region in the country.