Administration & Finance / News /
News Release
FOR IMMEDIATE RELEASE
Valarie Smith
Executive Secretary
713-743-3847
vmsmith2@uh.edu
Prepare for Emergencies by Learning Life-Saving Skills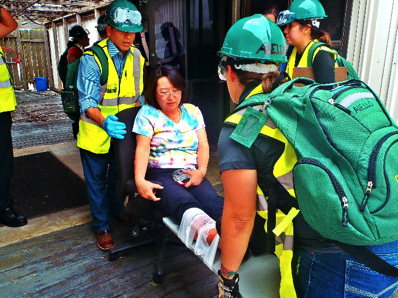 Houston, Sept. 10, 2018 —As National Preparedness Month continues, the University of Houston Office of Emergency Management is offering weekly tips on how to prepare for an emergency. Last week, the discussion focused on developing an emergency plan.
While having a plan and supplies during an emergency situation are some of the most vital steps for ensuring safety during an emergency situation, knowing other life-saving skills is just as important.
Learning simple basics such as how to use a fire extinguisher or how to shut off utilities such as natural gas can reduce the potential for injury during or after a natural disaster.
In addition, UH offers Community Emergency Response Team - or CERT for short - training, which covers everything just listed and more. For more information about CERT training, click here. To be added to the interest list for CERT training, go here.
Learning these skills is a great step in preparing for personal safety and the safety of others in an emergency.
---
About the University of Houston
The University of Houston is a Carnegie-designated Tier One public research university recognized by The Princeton Review as one of the nation's best colleges for undergraduate education. UH serves the globally competitive Houston and Gulf Coast Region by providing world-class faculty, experiential learning and strategic industry partnerships. Located in the nation's fourth-largest city, UH serves more than 45,300 students in the most ethnically and culturally diverse region in the country.