Administration & Finance / News /
News Release
FOR IMMEDIATE RELEASE
Valarie Smith
Executive Secretary
713-743-3847
vmsmith2@uh.edu
Time to Prepare: Hurricane Season Begins June 1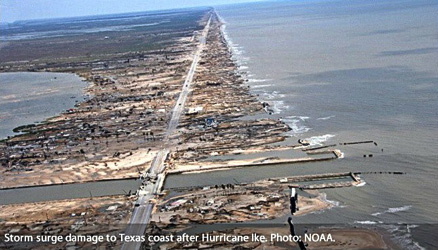 Houston, May 28, 2019 —With the start of hurricane season fast approaching - it begins June 1 - the University of Houston Office of Emergency Management wants everyone in the UH community to be prepared. Here are some tips to help understand how to prepare for a hurricane by making a plan, building a kit and staying informed.
The first step in preparing for a hurricane is to have a plan. You need to know whether you live in an evacuation zone by visiting this page. Make preparations to evacuate by knowing evacuation routes and having a pre-planned destination. If you don't live in an evacuation zone, make plans to shelter during the storm by gathering the proper emergency supplies. Learn more from FEMA's How to Prepare for a Hurricane guidebook.
The second most important thing to do is build an emergency kit. If you prepare a basic kit for yourself and others living in your home - including pets - for at least 72 hours, you have taken one of the best steps you can to prepare for a hurricane. Here are some recommended items for what should be in an emergency kit:
One gallon of water per person and pet per day for at least three days, to use for drinking and sanitation
At least a three-day supply of non-perishable food for each person and pet
Battery-powered or hand crank radio and a NOAA Weather Radio with tone alert
Flashlight
First aid kit and any daily medications needed per person and pet
Extra batteries
Whistle to signal for help
Dust mask to help filter contaminated air and plastic sheeting and duct tape to shelter-in-place
Moist towelettes, garbage bags and plastic ties for personal sanitation
Wrench or pliers to turn off utilities
Manual can opener for food
Local maps
Cell phone with chargers and a fully charged backup battery
A full list of supplies can be found here. Prepare a kit now for hurricane season. Don't wait until a storm is in the Gulf of Mexico as essential supplies will likely be limited.
Staying informed is the last and most important thing to do to stay safe during hurricane season. Sign up to receive alerts from UH ALERT by following the instructions here. In addition, be sure to sign up for alerts from your local community's alert system to listen for information that is specific to your residential area as conditions can vary here in the greater Houston metro area.
For more tips and resources that can help you prepare for hurricane season, check out the Office of Emergency Management's Hurricane Preparedness page.
---
About the University of Houston
The University of Houston is a Carnegie-designated Tier One public research university recognized by The Princeton Review as one of the nation's best colleges for undergraduate education. UH serves the globally competitive Houston and Gulf Coast Region by providing world-class faculty, experiential learning and strategic industry partnerships. Located in the nation's fourth-largest city, UH serves more than 46,300 students in the most ethnically and culturally diverse region in the country.