Administration & Finance / News /
News Release
FOR IMMEDIATE RELEASE
Richard Zagrzecki
Communications Coordinator
832-842-4722
rzagrzec@central.uh.edu
Finals Mania Marks Decade of Treating Students to Pancakes and More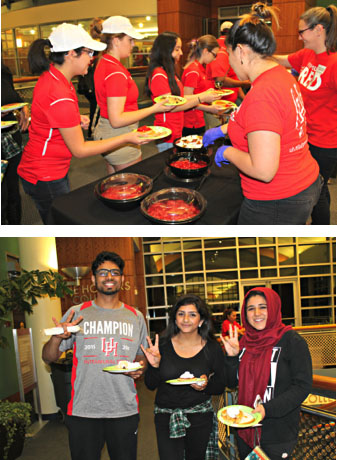 Houston, Nov. 29, 2018 - University of Houston students can take a much-needed break from studying for final exams and get recharged at Finals Mania, a popular campus tradition now in its 10th year.
The free event is slated for Monday, Dec. 3, from 8 p.m. to 10 p.m. in the Elizabeth D. Rockwell Pavilion at the M.D. Anderson Library.
Serving up scrumptious pancakes, turkey sausage and more, this biannual tradition provides a delicious evening "breakfast" for students and a welcome opportunity to refuel. Special appearances by the UH Band, cheerleaders and other VIP guests will be featured, including several former students who were instrumental in planning and launching the very first Finals Mania in 2008.
Once the event kicks off, students will make their way through the food line. All they need to bring is their Cougar Card ID and a hearty appetite. They can choose from among several types of pancakes, including a brand new flavor this semester: birthday cake. Toppings can be added and a beverage station will offer a variety of different drinks.
Plenty of pancakes and sausage will be prepared, but students are encouraged not to arrive too late, as food will be served only as long as supplies last.
Every student who attends and brings their Cougar Card ID will be sent a survey. Those who complete the survey will be entered into a drawing for a chance to win a Starbucks gift card.
Want to see what Finals Mania is all about? Photos from previous ones can be viewed online.
Finals Mania is sponsored by Auxiliary Services, Dining Services, UH Libraries, Canteen Vending and Coca-Cola.
---
About the University of Houston
The University of Houston is a Carnegie-designated Tier One public research university recognized by The Princeton Review as one of the nation's best colleges for undergraduate education. UH serves the globally competitive Houston and Gulf Coast Region by providing world-class faculty, experiential learning and strategic industry partnerships. Located in the nation's fourth-largest city, UH serves more than 46,300 students in the most ethnically and culturally diverse region in the country.