Administration & Finance / News /
News Release
FOR IMMEDIATE RELEASE
Cindy Granier
Administrative Assistant
713-743-0612
cgranier@central.uh.edu
UH Campus Safety Wins Second Place in Cupcake Challenge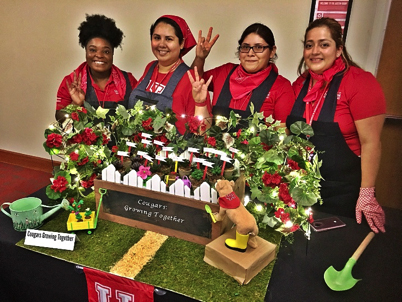 Houston, Sept. 10, 2018 —University of Houston Campus Safety took second place in the Cupcake Challenge at the Staff Appreciation luncheon on Aug. 8. Team members included:
Sharon Pellas, program manager 2 with Electronic Access Control;
Valarie Smith, executive secretary with the Office of Emergency Management;
Christina Martinez, food safety specialist with Environment Health & Life Safety; and
Imani Anderson, food safety specialist with Environment Health & Life Safety
The team met ahead of time and planned their design and strategies, which helped them come out strong in the contest.
While the team was on the stage with President Renu Khator, Smith shared this information regarding their cupcake display:
"Our theme was Cougars: Growing Together, which we chose to reflect the manner in which the University's staff, students and faculty pull together in the face of adversity, show our strength, and grow as a community. The campus community's response to Hurricane Harvey, the subsequent flooding, and the more recent garage fire were the moments that inspired us to showcase this growth in the form of a garden. Even the plants we chose represented the heartiness and strength of the Cougar Spirit."
Assistant Vice Chancellor/Assistant Vice President for Campus Safety Malcolm Davis was proud of the cupcake presentation that the team made for this event, and the fact they came in second place.
---
About the University of Houston
The University of Houston is a Carnegie-designated Tier One public research university recognized by The Princeton Review as one of the nation's best colleges for undergraduate education. UH serves the globally competitive Houston and Gulf Coast Region by providing world-class faculty, experiential learning and strategic industry partnerships. Located in the nation's fourth-largest city, UH serves more than 45,300 students in the most ethnically and culturally diverse region in the country.