Administration & Finance / News /
News Release
FOR IMMEDIATE RELEASE
Richard Zagrzecki
Communications Coordinator
832-842-4722
rzagrzec@central.uh.edu
Students at Nearby School Benefit from Generosity of A&F Staff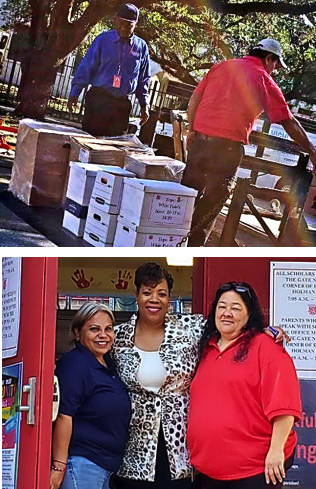 Houston, Oct. 23, 2018 - A local elementary school once again is reaping the benefits of the generosity of Administration and Finance Division employees, who donated shirts, pants and other articles of clothing to students.
The school uniform drive was held in conjunction with the A&F FY19 Kickoff, which took place Oct. 8 at Cullen Performance Hall. In all, 227 polo shirts, 92 bottoms (shorts, pants, skirts and skorts) and 33 belts were collected, far surpassing the amount from the previous school uniform drive, which the A&F Division held in 2016.
The beneficiaries of this display of collective generosity are the students at Houston ISD's Blackshear Elementary, located at 2900 Holman St., just a mile away from the UH campus. A group of A&F employees personally delivered the clothing to the school on Oct. 11.
The 352 articles of clothing donated this year is nearly twice as many as the 177 collected two years ago. Much of that increase can be attributed to a push to get 100 percent of A&F departments to participate in the drive.
The collection effort exemplifies the A&F division's strategic goal of being committed to service excellence - which in this case extends to its dedication to helping the University's surrounding neighbors in the Third Ward.
---
About the University of Houston
The University of Houston is a Carnegie-designated Tier One public research university recognized by The Princeton Review as one of the nation's best colleges for undergraduate education. UH serves the globally competitive Houston and Gulf Coast Region by providing world-class faculty, experiential learning and strategic industry partnerships. Located in the nation's fourth-largest city, UH serves more than 46,300 students in the most ethnically and culturally diverse region in the country.