Administration & Finance / News /
News Release
FOR IMMEDIATE RELEASE
Richard Zagrzecki
Communications Coordinator
832-842-4722
rzagrzec@central.uh.edu
UH Police Chief to Lead Panel Discussion at National Conference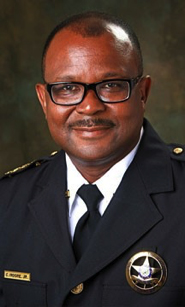 Houston, Jan. 18, 2019 - University of Houston Police Chief Ceaser Moore will lead a panel discussion at the upcoming National Campus Safety Summit.
Moore was chosen to lead a group of police chiefs from five other colleges and universities as they discuss a variety of campus safety matters, ranging from budgets to policing major campus events.
The National Campus Safety Summit takes place Feb. 26-27 in Las Vegas. It is a conference for college and university safety, security and emergency management administrators to learn about new technologies and programs, meet colleagues from other campuses, and to share information and knowledge.
Moore has been UH's chief of police since 2012. Prior to that, he worked for the Houston Police Department for more than 27 years, working his way up from a patrol officer to captain.
---
About the University of Houston
The University of Houston is a Carnegie-designated Tier One public research university recognized by The Princeton Review as one of the nation's best colleges for undergraduate education. UH serves the globally competitive Houston and Gulf Coast Region by providing world-class faculty, experiential learning and strategic industry partnerships. Located in the nation's fourth-largest city, UH serves more than 46,300 students in the most ethnically and culturally diverse region in the country.