Administration & Finance / News /
News Release
FOR IMMEDIATE RELEASE
Saira Treviño
Communications Coordinator
713-743-6342
Strevi10@central.uh.edu
Free Monthly Tours Highlight Public Art on UH System Campuses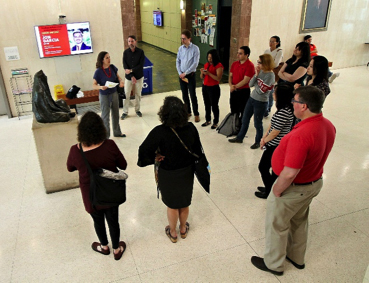 Houston, April 11, 2019 — Free, open to the public and typically on the first Wednesday of every month, Public Art of the University of Houston System hosts free public art tours of its existing permanent collection of nearly 700 art pieces throughout all of the UHS campuses.
"From October through May, we host free art tours by university professors, artists, curators, critics and students to offer the community an opportunity to familiarize themselves with our collection while learning more about art, creativity and artistic movements," said María C. Gaztambide, PAUHS inaugural director and chief curator. "Each tour highlights different artists and works to explore the gamut of human expression; and, we hold them across the UH System universities and invite all of our communities."
This month, gathered inside the University of Houston's Wortham Theatre, art enthusiasts clustered around a Dorothy Hood canvas during the April public art tour, which was in conjunction with the concurrent Latino Art Now! Conference, a national Latino-focused, founded and directed Latino art forum.
"The University of Houston is a Hispanic-serving institution, and I think that the public art here truly reflects that," said Jesus G. Cruz-Garza, UH Electrical Engineering graduate assistant, doctoral candidate and tour participant. "These tours really do help us see and understand the struggles that Mexican-American, Latino-American students went through. I had no idea all these pieces signified so much."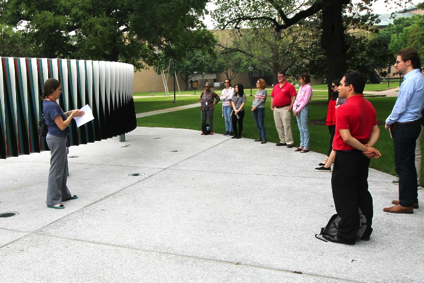 According to Gaztambide, the art tours usually begin with a brief welcome and introduction of the day's tour, with routes and starting points varying for each one.
"Each iteration of our tour varies in terms of the pieces we feature, where we meet, the areas of our campuses that we visit, as well as the interests of our guest tour guides," Gaztambide said.
The April tour highlighted a handful of artists with Latino or Latin American connections. Works by Dorothy Hood, Carlos Cruz-Diez and Francisco Zúñiga were explored.
"Our collection is comparable in size to the city of Houston's art collection," said Michael Guidry, PAUHS curator. "We have about 700 artworks ranging from small prints and drawings to large-scale sculptures by local, regional, national and international artists. The significance and quality of our collection, which ranks in the top five of university public art collections, is evident by the numerous critically acclaimed artists represented in it. We pride ourselves on having a museum quality collection and we are eager to share this with our community."
One more tour, the last for the upcoming school year, will take place on Wednesday, May 1 at noon at the University of Houston-Downtown. Guidry will meet tour participants at UHD's O'Kane Gallery, located at 201 Girard St.
"Our tours are a great opportunity to learn and glean insights from artists and art specialists with connections to the PAUHS collection," Gaztambide said. "There is always something new. We always focus on different pieces, so this is a great opportunity to learn about our collection and what makes each of our UH System universities so unique."
For more information and tour reservations, visit Publicartuhs.org/Tours/.
"I think everyone should participate in these tours," Cruz-Garza said. "Having these back-stories of the artworks allow you to know a little more about the University's culture and what is viewed as a priority – I found that fantastic."
---
About the University of Houston
The University of Houston is a Carnegie-designated Tier One public research university recognized by The Princeton Review as one of the nation's best colleges for undergraduate education. UH serves the globally competitive Houston and Gulf Coast Region by providing world-class faculty, experiential learning and strategic industry partnerships. Located in the nation's fourth-largest city, UH serves more than 46,300 students in the most ethnically and culturally diverse region in the country.