Administration & Finance / News /
News Release
FOR IMMEDIATE RELEASE
Richard Zagrzecki
Communications Coordinator
832-842-4722
rzagrzec@central.uh.edu
Symposium Celebrates A&F Division's Assessment Accomplishments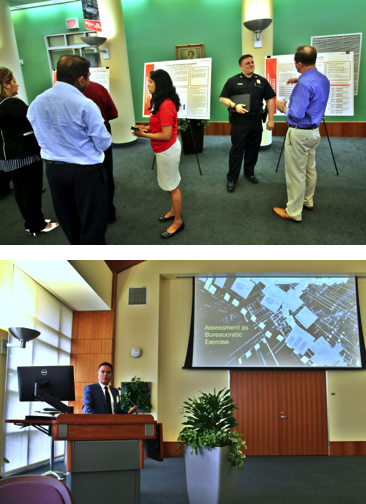 Houston, Sept. 11, 2018 - The inaugural A&F C.A.R.E.S. Assessment Symposium provided an opportunity to showcase and celebrate the valuable assessment work undertaken by staff within the numerous departments across the division.
The event, which took place July 30 in the Elizabeth D. Rockwell Pavilion, included poster presentations from various Administration and Finance departments highlighting some of their assessment initiatives. Interim Associate Provost of Institutional Research Dr. Miguel Ramos was the guest speaker.
Associate Vice Chancellor/Associate Vice President for Administration Dr. Emily Messa and Services Assessment and Evaluation Manager Dr. Moumita Mukherjee provided opening remarks to kick off the well-attended symposium, which is expected to become an annual event.
"This was a great opportunity and platform for our C.A.R.E.S. assessment team to showcase the work they have been doing," Mukherjee said. "The event was very successful and the turnout was high, which reflects the campus community's growing interest in conducting assessment."
A&F C.A.R.E.S. is a division-wide service assessment program whose name is an acronym for its mission of "Collecting, Analyzing and Reporting data as programs and services Evolve to strengthen service excellence in a Systematic way."
By using the knowledge accrued through assessment initiatives, departments can evolve and transform their services and programs. In turn, this directly supports the division's strategic goals of being committed to service excellence and streamlining efficiency and effectiveness.
"We launched our assessment initiative in the fall of 2016 and within a short time, we have already completed two assessment cycles," Mukherjee said. "This speaks not only to the success of the initiative, but it also reflects that A&F departments are finding formative assessment useful and timely as it allows business leaders to make continuous, ongoing and incremental business improvements."
As guest speaker, Ramos examined the value of assessment initiatives and the manner in which they are undertaken by juxtaposing the work taking place in the A&F Division with a negative op-ed critique of assessment by a professor at Cal Poly Technic Institute published in a recent edition of the Journal of Higher Education.
Ramos, who has 20 years of experience in the assessment field, praised the A&F division for being proactive and organizing the symposium.
"This kind of event is very encouraging to me because it demonstrates that there is a mechanism in place to have real conversations about assessment practice," he said. "I think it is fantastic and I hope it continues for many years because it is an opportunity for people to get together and talk about what they are doing."
Mukherjee said she is looking forward to hosting the symposium again next summer.
"We have received encouraging and positive input from leadership, and departments currently not involved in this cycle of assessment have expressed an interest in participating in the future," she said.
---
About the University of Houston
The University of Houston is a Carnegie-designated Tier One public research university recognized by The Princeton Review as one of the nation's best colleges for undergraduate education. UH serves the globally competitive Houston and Gulf Coast Region by providing world-class faculty, experiential learning and strategic industry partnerships. Located in the nation's fourth-largest city, UH serves nearly 45,300 students in the most ethnically and culturally diverse region in the country.