Administration & Finance / News /
News Release
FOR IMMEDIATE RELEASE
Richard Zagrzecki
Communications Coordinator
832-842-4722
rzagrzec@central.uh.edu
UH Programs, Practices Showcased at Annual NACAS Conference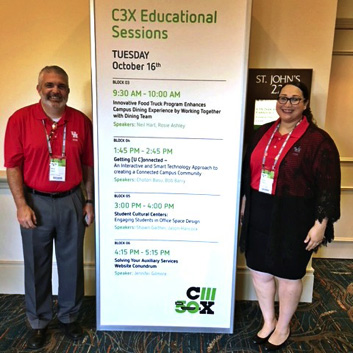 Houston, Oct. 31, 2018 - The Division of Administration & Finance was invited to share its expertise and best practice knowledge covering a variety of areas ranging from dining to parking during C3X, the annual conference of the National Association of College Auxiliary Services.
The NACAS event, which took place Oct. 14-18 in Orlando, showcased expertise of auxiliary-related representatives from universities and colleges, as well as provided learning and networking opportunities among university colleagues from across the nation.
UH had five presentation proposals accepted for the conference, which gave the team representing Auxiliary Services, University Services and the Office of Administration an opportunity to showcase innovative programs and unique approaches covering a cross-section of services. At the same time, these same employees and leaders gathered valuable information from other schools.
The success of UH's campus food truck program, which has grown by leaps and bounds since launching in 2012, was the focus of one of the presentations the UH team was invited to make.
Auxiliary Services Executive Director Neil Hart and Program Director Rosie Ashley detailed the history and goals of the food truck program, as well as the challenges and lessons learned over the past six years.
The other four presentations included:
"Communicating Parking and Mobility Impacts Before, During and After Major Campus Events" by Eric Holamon, UH Parking and Transportation assistant director of customer relations; and Mallory Doeckel, communications coordinator.
"An Assessment of Student Worker Training Program Development Module" by Dr. Emily Messa, associate vice chancellor/associate vice president for Administration; and graduate assistant Ricky Frierson.
"Campus Card System Data ... Keeping it Clean" by University Services Executive Director Esmeralda Valdez and Cougar Card Services Director Deborah Davis.
"Student Success is Our Business: How to Live This Motto Every Day" by Dr. Emily Messa and Auxiliary Services Program Director Matt Prasifka.
Messa said the conference was a golden opportunity to learn ways to improve service and streamline efficiency - two of the strategic goals the A&F Division emphasizes across all of its departments.
"The departments and staff from across the A&F Division are doing great work, and this conference allowed us to share our expertise with other auxiliary-affiliated teams from all over the country," Messa said. "It also provided a wealth of learning opportunities for us to gather knowledge we could use to improve our own work."
---
About the University of Houston
The University of Houston is a Carnegie-designated Tier One public research university recognized by The Princeton Review as one of the nation's best colleges for undergraduate education. UH serves the globally competitive Houston and Gulf Coast Region by providing world-class faculty, experiential learning and strategic industry partnerships. Located in the nation's fourth-largest city, UH serves more than 46,300 students in the most ethnically and culturally diverse region in the country.