Administration & Finance / News /
News Release
FOR IMMEDIATE RELEASE
Valarie Smith
Executive Secretary
713-743-3847
vmsmith2@uh.edu
Spring 2019 CERT Class Graduates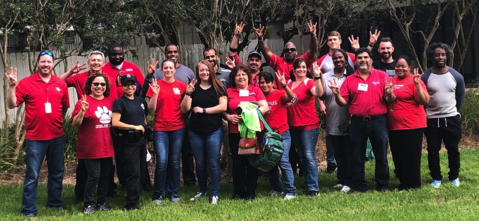 Houston, April 22, 2019 —The University of Houston Community Emergency Response Team (CERT) spring class has graduated.
The group of approximately 20 students, staff and other residents from the Houston area spent eight weeks learning lifesaving skills that can be used following a disaster when first responders are overwhelmed or not immediately available.
The class ended with a mock disaster drill that allowed participants to practice their skills in a disaster scenario. The drill, which took place April 12, used past CERT graduates to portray victims of the staged disaster. More photos from the drill can be found online.
The University of Houston's Office of Emergency Management offers this training class at least once per academic year. In addition, it holds a CERT Connection event as an annual refresher of the skills learned in the training class.
Coming this fall, another CERT class will be offered over two consecutive weekends for those who cannot attend the longer, weekly version of the training class. The course will take place Friday, Sept. 20 and 27, from 5 to 8 p.m., and Saturday, Sept. 21 and 28, from 8 a.m. to 5 p.m. Those interested in this class can register online.
---
About the University of Houston
The University of Houston is a Carnegie-designated Tier One public research university recognized by The Princeton Review as one of the nation's best colleges for undergraduate education. UH serves the globally competitive Houston and Gulf Coast Region by providing world-class faculty, experiential learning and strategic industry partnerships. Located in the nation's fourth-largest city, UH serves more than 46,300 students in the most ethnically and culturally diverse region in the country.