Michael Bargas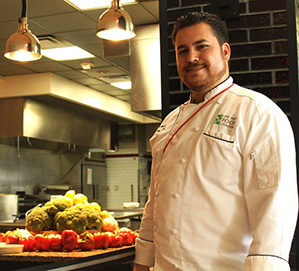 Chef Michael Bargas knows his two biggest critics quite well.
"My kids are terrible eaters. It's hard to get them to eat anything," he said.
The same cannot be said of the thousands of students who filter through the Fresh Food Company and Cougar Woods Dining Hall on a daily basis. He gets satisfaction in seeing them sit down to enjoy a meal in one of the dining halls before heading out to class or the library.

Bargas is relatively new to the university. He became the district executive chef for the University of Houston System in July after serving as the director of the culinary department for the Art Institute of Houston. In his new job, he is responsible for the dining services on all of the University of Houston campuses. He is also looking at ways to improve the speed, quality and consistency of the dining experience.

His main focus right now is the two dining halls on the main campus. More sous chefs are being hired, and Bargas is training them on how to manage and operate the kitchens so that the standards of quality, safety and production remain high.

Bargas, who lives in Pearland with his wife Mary Ann and their son Sean, 6, and daughter Sarah, 3, grew up in Angleton. He graduated from Princeton University with a degree in philosophy. His original plan was to pursue a law career, but all that changed while working on his senior thesis.

"The topic of my thesis was attaining a meaningful life. In the process of going through that exercise, I decided that being a lawyer wasn't what I wanted to do," he said. "I started evaluating the things I was doing that I liked doing and then things that I thought I could make a living doing and have fun making a living doing and be successful."

As he started to whittle down the possibilities, he realized he had a passion for cooking for others. Before long, his mind was made up to pursue a culinary career.

His experience includes a stint as the executive sous chef at Masraff's, a fine dining establishment in Houston. He's also worked for the Memorial Hermann Hospital System, where he developed and implemented a room service program, putting together recipes and order guides.

Positive or negative, students at UH give plenty of feedback on the food, which he finds helpful. He encourages students to offer their opinions and critiques of their dining experiences on campus and even has a Facebook page that he uses to stay connected with the student body: www.facebook.com/ChefMBargas.

He's happy his career path has led to the University of Houston.

"It was something interesting, exciting and different," he said. "It's been a great experience."