Ashley Waggoner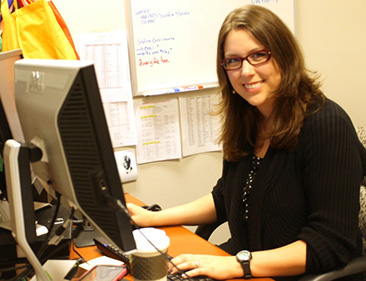 Ashley Waggoner can handle tornadoes. It's hurricanes that frighten her.

"I've never been through a hurricane, so they scare me to death because I don't know what to expect," said Waggoner, a training specialist in Human Resources here at the University of Houston.

Having spent much of her childhood growing up in Kansas in the heart of tornado alley, however, she learned the drill for what to do if a twister was spotted. That knowledge came in handy not long after she graduated from the University of Kansas. She was working as a kitchen manager for a restaurant in Kansas when the warning sirens went off. It was during the dinner rush, and so the restaurant was packed with patrons.

"We had to get everyone to the center of the restaurant and into the walk-in cooler and keep everyone calm," Waggoner said.

The tornado missed the restaurant, but did cause major damage at a church just a few blocks away.

Waggoner, who lives in Pearland with her husband Josh and their two dogs, Panic and Lucy, has held her current position at UH since January. As a training specialist, her focus is mostly on online training. That includes all the mandatory trainings that employees are responsible for completing by Dec. 13.

Before this role opened up for her, she was a senior employment representative, working with the various campus departments regarding their hiring practices and job postings. She came to UH from Chicago, where she was working as a recruiter for a staffing agency.

Right now, she is taking online courses as she works to complete an MBA from Texas A&M-Commerce.

In high school, she fell in love with the theater and worked behind the scenes as a light designer. In college, she started out majoring in theater and studied abroad in London and Prague. After graduating from the University of Kansas with a bachelor's degree in English and psychology, she didn't plan for her career to steer toward human resources, but that's how it unfolded while she was still working in the restaurant industry, she said.

"It just sort of happened," she said. "But I'm loving it."