Student Spotlight
Karen Hernandez
Facilities Services student worker
By Richard Zagrzecki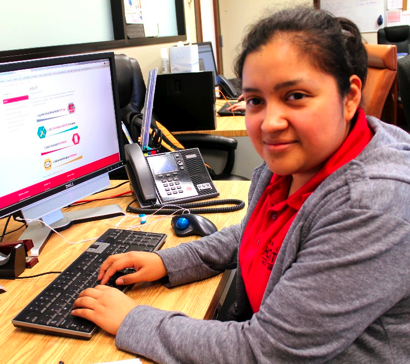 When Karen Hernandez graduates from the University of Houston, she's hoping to pursue a career that involves one of her greatest passions: video gaming.
The English literature and digital media senior grew up in Houston and would spend much of her free time during the summer months playing video games with friends and family. As games evolved and became more elaborate and detailed, incorporating story lines and better and better graphics, her interest grew even stronger.
So when it was time for her to start thinking about college and what degree to pursue, she spent a lot of time researching what background she needed in order to become a video game designer.
"What I found out is you basically need to know a lot in general," she said. "But there's also a strong writing aspect to the industry, so it really helps knowing how to be creative and write stories."
She chose UH, which is just a short distance away from Eastwood Academy, the high school she attended. She was already quite familiar with UH, having participated in several summer youth programs on campus, as well as being part of the Young Artist Apprenticeship Program hosted by the Blaffer Art Museum. In addition, her two sisters already had studied here.
"Coming to UH just seemed like the natural thing to do," said Hernandez, who will be graduating at the end of the spring semester.
A year ago, she landed a job as a student worker in the communications department within Facilities Services, where her sister Yvonne also works. Much of what she is doing with that job is providing useful experience for her future career. That has included everything from video to print to graphic design. Her specialty, however, has been motion media, which incorporates animated video content. Some of the web banners on the Facilities Services website have included motion media samples she has created. She also has played an integral role in the department's monthly internal newsletter.
Although her studies and student worker job take up most of her time, she does relax by playing guitar, which she taught herself to do.
"Another big thing for me is family. I do like to make time to have Sunday breakfast each week with my mother," she said.