Employee Spotlight
Genille Rampersad
Real estate specialist
By Kristina Michel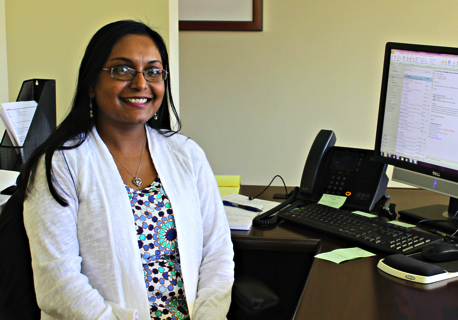 Genille Rampersad has worked in many different branches of real estate. She's worked for a company that builds custom homes, an agency that provides housing for people with mental disabilities, and now, a tier one public university system. Even though these places seem miles apart in the clients they serve and the type of real estate work they do, Rampersad has found their primary mission is one and the same: developing a place where people can succeed and prosper.
"Some of the projects we work on in real estate evolve into places where someone is going to learn, grow and become successful," said Rampersad. "I get to be part of that process from the very beginning, which is very neat and rewarding."
Rampersad is the newest member of the University of Houston Office of Real Estate Services. As a real estate specialist, she is responsible for organizing and maintaining the lease files at Energy Research Park, assisting the Real Estate Services team on new and existing real estate projects, and tracking the office's numerous contracts to make sure they are being carried out in a timely fashion.
Rampersad has been working in real estate for more than nine years. Originally from Long Island, New York, she moved to Houston with her parents in 2001. In 2005, she returned to New York to help out her grandmother. That was when she became involved in the real estate industry.
She started out in 2006 as a contract phase coordinator at Whalen Homes, a company that specializes in building custom homes in the Hamptons. Later, she worked at Concern for Independent Living, Inc., an agency that provides housing to people with mental disabilities, homeless individual and families and veterans. Starting out as an administrative assistant, she was quickly promoted to an assistant property manager and promoted again later on to an affordable housing compliance specialist.
While working in New York, Rampersad attended St. Joseph's College to obtain a bachelor's degree in business. However, the cost of living in New York became too much, and she moved back to Houston, where she started her current position in January. Now that she's working at UH, she hopes complete her business degree here too. She says that if everything works out in her favor, she'd like to teach business as an adjunct professor.
"UH is such a great place to work and learn. I like the atmosphere and the morale of people here," said Rampersad. "Who knows? I might even go further and get a master's degree if I don't have too much gray hair by then."
When she's not working, Rampersad enjoys exploring the city and spending time with her 12-year-old son.