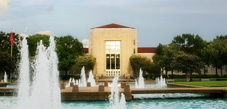 Jesse Gonzalez
Jesse Gonzalez is in the business of keeping people comfortable.

As an HVAC/mechanical supervisor in Facilities Management, he is in charge of a group of technicians whose duties include making sure the heating and air-conditioning systems in campus buildings are working properly.

So when a building gets too hot or too cold for comfort, people start to get uncomfortable. When Facilities Management is notified, Gonzalez dispatches a crew to diagnose the problem and get it fixed.

"Much of our time is spent addressing hot and cold calls," said Gonzalez, who has worked for the University of Houston for 33 years. "We adjust the building temperatures and make it as comfortable as possible for the customer."

Gonzalez has served in his supervisory role for 25 years. He oversees about 30 employees whose duties also include doing preventative maintenance to keep problems from occurring in the first place. Over the winter break, he and his team took advantage of students, faculty and staff being away by working on around 21 projects.

"When nobody is here, we are able to concentrate on the list of things we have to do. We got a lot accomplished during the break," he said.

Prior to the start of the spring semester, the winter temperatures dipped below freezing. When it gets that cold, he and his technicians make sure all of the outside air-handling units are functioning properly. They also do building temperature checks to ensure optimal comfort.

"Some of the older buildings on campus provide more challenges than the newer ones and are really hard to control the temperature because of the age and design of the systems," Gonzalez said.

While the heating, ventilation and air-conditioning systems make up a big part of the work his employees perform, it is not their only duties. He oversees the building automation systems and even maintains the extensive underground tunnel system on campus that protects utility lines, steam pipes and chilled water pipes. His group performs a lot of plumbing work as well and installed the approximately 45 UH2O water-bottle filling stations that can be found in many buildings across campus.

Assistant Director of Central Plants and Sustainability Team Leader Michael Burriello said Gonzalez continues to provide leadership and accountability within Facilities Management.

"His dedication and adaptability is second to none in any of the organizations I have been acquainted with. Throughout his tenure, he has analyzed and solved issues in the HVAC and building automation systems areas using the most current methods and solution," Burriello said. "He has built a cohesive team of mechanics who respect him as a person and as a leader. I have grown to know him as an honorable and dedicated person and enjoy seeing him and his team in operation."

Before UH, Gonzalez worked for a private company in Houston and was a machine operator for two years. Then he decided to go into the air-conditioning field and began attending Houston Community College to study to become an HVAC technician.

Gonzalez, who has a son by the same name who works at UH in the power plant, lives on the east side of Houston. His commute to campus is an easy one.

"It takes me about five minutes to get to work," he said.