Samuel Arevalo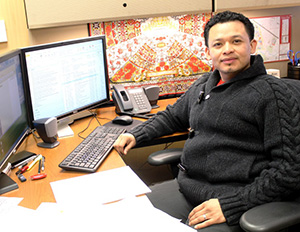 Samuel Arevalo takes pride in seeing a job well done.

As a senior buyer in the Purchasing Department, he helps departments and colleges on campus with purchase requisitions every day. But when those same departments have larger purchasing needs that require a formal procurement such as a request for proposal or an invitation to bid, it can be a time-consuming task.

That's why when he receives a request for an RFP, he makes it a point to meet with the customer in person to go over all the information.

"That's one of the most important things that I try to do as a buyer," Arevalo said. "I believe a face-to-face conversation brings out a lot more details than a phone call or email. There are a lot of different ideas that flow when you are speaking to someone in person."

That in-person meeting helps to iron out the scope of the work or product being sought, the requirements, and how each of the vendor responses will be rated and judged. Once all the information is gathered, he prepares the bid package and posts it on the state's public procurement website. Then the waiting begins for interested vendors to submit their sealed proposals.

"The public solicitation process, which mostly includes RFPs, takes a lot of project management, a lot of coordinating, and a lot of back and forth with departments and vendors," he said. "Whenever there is a successful RFP, it brings me a lot of pride because I know I am doing my job to the best of my abilities."

Arevalo, who first joined the UH family in 2010, is one of several buyers who service the campus. He is officed in ERP Building 1, recently renamed the Schlumberger Building, and is assigned to handle the purchasing needs of Administration & Finance, Business Administration, the Chancellor/President's Office, College of Optometry and Student Affairs.

He has nearly six years of public procurement experience under his belt, including a stint with the Lone Star College System prior to coming to UH. He's also done procurement work for private industry, having worked for a foundation repair company in Houston.

Arevalo grew up in Houston and attended Sam Houston High School on the city's north side. He likes sports, writing poetry, photography and fishing. During the spring and summer, he'll make a trip to Matagorda Bay once or twice a month to fish off a pier and just relax. He also likes to eat healthy and is in his final semester of his pursuit of an MBA from Texas A&M University-Commerce.

There are numerous reasons why he likes working for the university, the main one being personal: He met his wife Jennie here when she was working in Administration & Finance. They have been married for two years.

He also loves his job and what he does.

"I like serving customers. I'm a helper by nature and I think that shows in my work," he said. "We have a very customer service-oriented frame of mind in Purchasing. I strive for that."