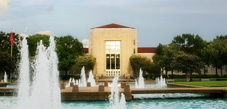 Mark Rosanes
For Mark Rosanes, the University of Houston has played a major role in his life for close to two decades.

The systems analyst who leads the E-Communications team has been employed at UH since 2001. Before that, he earned his degree in management information systems from the university.

Then on top of that, he met his wife Grace when they were both UH students. She also now works here in the Division of Research. They have two children, ages 7 and 4.

There's no telling how all that would have changed if he had followed through on his original plan to attend the University of Texas and study mechanical engineering after graduating from Elsik High School in Alief in 1996.

"I changed my mind at the very last minute and decided to come to attend UH instead," he said.

Although he has been employed at UH for nearly 13 years, he didn't start working in UIT until 2009, when he was brought on board to support the PIER emergency management system. Before that, he was employed in the College of Natural Sciences and Mathematics, where he did technical support and then ended up being the webmaster and server administrator.

In his current role in UIT, he works under Diane Trippel, who manages web technologies, which includes e-communications. Rosanes oversees everything from SharePoint, listservs, emergency communications, RightNow email messaging and digital signage.

Lately, it's been the digital signage project that kicked off in March that's kept him the busiest.

"Since then, we've launched about 55 signs on campus across 13 buildings," he said. "We support the software, but we empower the divisions, departments and colleges to update their own content."

His parents, who immigrated to the United States from the Philippines in the 1970s, originally settled in New Jersey, which is where Rosanes was born. At a young age, though, his family moved to Texas, where he has lived ever since.

There was a time when he was in college that he flirted with the idea of taking a different educational path – creative writing.

He's always liked to write and tap into his creative side. In fact, he and several friends self-published a book a few years ago that contains some of his works of poetry.

"That's probably what I would be doing if I wasn't in the career I am in," he said.