Employee Spotlight
Troy Golden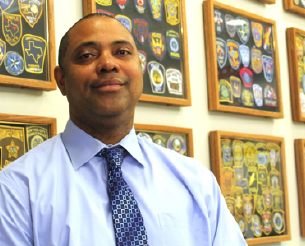 In the two decades he's worked for the University of Houston Police Department, Troy Golden has done a little bit of everything.
He joined the UH family in 1994 as a police officer. Since then, he's also worked in investigations and then was in charge of special events for nearly five years. Now, he's serving as the interim director of security.
His current role is a big undertaking that has included an initiative to increase the security presence on campus. That involves doubling the number of security officers and beefing up the number on patrol at any given time. The goal is to have 110 security officers on the main campus.
"I oversee the hiring and management of security - everything," he said.
Before assuming the security director role, he organized the logistics for all the special events that take place on campus. That can be anything from fun runs to athletic events to concerts at Cullen Performance Hall. It also included the several years that the Houston Dynamo played their professional soccer matches at Robertson Stadium until BBVA Compass Stadium was built.
For the larger events, he has to work closely with other law enforcement agencies such as the Houston Police Department to bring in additional officers.
"We are the primary agency, but to supplement our manpower, we will bring in HPD to help us," he said.
Golden grew up in the Houston area and graduated from Bellaire High School. He's always been tall, and combined with his love for sports, it was only natural that he ended up playing basketball in high school and then for a couple of years at Alvin Community College.
Over the summer before his junior year in high school, he grew three inches, which "freaked out" his mother, he said. He now stands 6 feet 9 inches tall.
He always knew growing up he wanted to be either a firefighter or police officer. He ended up receiving his law enforcement training at the Houston Community College Police Academy, then accepted a job with the police department in the tiny town of Kendleton in far southern Fort Bend County. He was there for just six months before landing a position with UHPD.
The most interesting aspect of his career at UH has been meeting various dignitaries, celebrities and sports stars who have come to campus for special events and activities.
"The fact that I have gotten to interact with a lot of individuals who are making impacts in different areas of life is really exciting," he said.