We understand that when certain permit types sell out, people still need to be able to get to campus. We have created this page as a resource guide for alternative ways to get to campus.
1.) Waitlist
When permit types are sold out you can join a waitlist to get a permit later if any permits become available. Waitlists can be accessed by going to myParking Account in AccessUH.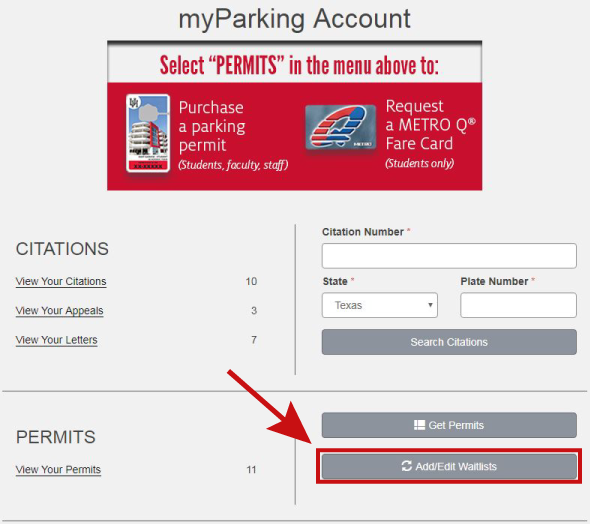 If permits become available to you, PTS will notify you via email. If the permit is not claimed in the given time, it will be made available to the next person on the waitlist.
2.) COAST and take METRO
Consider joining our award-winning COAST program that offers students, faculty and staff to have all or a portion of your cost of commuting to campus covered.
Those taking the local METRO bus/lightrail can sign up to get a Q-Card with $27.50 pre-loaded by PTS per month through COAST. This amount covers 100% of the cost of 5 round-trips per week.
The following busses will provide direct access to campus:
4- Beechnut
9 – Gulfton/Holman
25 – Richmond
29 – Culen/Hirsch
54 – Scott
80 – MLK/Lockwood
The METRORail Purple line connects the UH campus to downtown and the red and green lines. There are 2 stops on the UH campus:  Calhoun at Wheeler and TDECU stadium. 
METRO offers several parking locations along the lightrail for those taking the METRORail.
See the map below for locations.
Those traveling from further away locations can use METRO Park & Rides. These commuters can still get $27.50 added to a Q-Card and can use METRO student discounts to cover the remainder of their travelling fees.
A map of Park & Ride areas throughout Houston is below.
Students with a parking permit are not eligible for COAST but can still utilize METRO's discounted Q-Cards and Day Passes.
3.) Other Options
Get dropped off on campus. Avoid the high-traffic areas of campus when getting dropped off by following this guide of suggested dropoff locations.
Rideshare with Uber or Lyft. Reference the Dropoff Locations map above for suggested areas to get dropped off or picked up.
Bike-riders/cyclists can utilize one of several dedicted bike paths/lanes that connect the campus to a variety of neighborhoods. If you live in downtown, midtown, EaDo or the Museum District, considering using one of these bike paths, including the recently updated Bray's Bayou Bike Trail as a healthy alternative to driving.  
More information on biking can be found on the Houston Bikeways website. Those who bring a bike to campus should register their bike with UHPD.
Walkers can take advantage of one or more of the wide variety of walking apps currently available for Apple and Android users. They can track your miles, map your routes and more. 
4.) Form a carpool with friends/classmates
We encourage people to buddy up with friends or classmates to carpool to campus. You could share the cost of a permit and it's possible that your carpool may qualify for a discount through the COAST program**.
** Please be aware that spaces are limited for discounted permits through COAST.
5.) What is UH Parking and Transportation doing to help?
Over the last 2 years PTS has reduced permit oversell rates in student and faculty/staff areas on campus to better serve our customers with parking permits. While this means we've had to place caps on the number of permits we sell, it also provides for a more consistent experience for individuals who have paid to park on campus. 
How are we increasing opportunities for parking spaces?
--PTS is in the early design phase for our next garage, Garage 5, to be built in lot 18A near the Law School. This new "Arts Garage" will include up to 2,500 parking spaces and design, studio and office spaces for several academic programs.
--The early programming phase has already begun for Garage 6, location TBD.
--There is a feasibility plan in development to add parking at the MacGregor tract to help alleviate impacts to parking supply during construction of future garages.
--This fall we will launch Coast A la Carte, a build-your-own program that will allow students, faculty and staff to combine limited access parking with reduced METRO subsidies.  By combining these 2 components we can provide comprehensive transportation options for those who need to drive to campus 1-2 days a week but want to utilize mass transit when they can. 
--We are exploring additional programs to add within COAST, including bike, car and ride sharing opportunities. 
It is our goal to support faculty, staff and students in their journeys to success. It is never our intent to limit access to parking on campus but to instead provide consistent access for our permit holders.
In order to create a positive experience for our permit holders we, like other major urban universities, have to respond to the needs of the campus, which includes restricting sales to what we can reasonably accommodate.
For more information on our growing COAST program, please visit the COAST page.