Zipcar Now an Option for Members of Growing COAST Program

By Bob Browand

The COAST (Coogs on Alternative and Sustainable Transportation) program was launched in the spring of 2016 by Parking and Transportation Services. The goal of the program is the same today as it was then: reduce the number of vehicles traveling to and parking on campus, while also reducing Houston's carbon footprint by relieving traffic congestion and improving the region's air quality.
After the first four months of existence, it was already making great strides, with more than 1,200 members choosing to ride METRO or carpool. That alone was enough to offset 790 parking spaces – the size of ungated lot 16B, which comprises the entirety of Zone B!
Fast forward to now, and the program has added new incentives and grown in membership by leaps and bounds. There are now nearly 3,900 COAST members, enough to offset more than 2,400 parking spaces, or roughly an entire parking garage!
How does it work?
All full-time students, faculty and staff are eligible to participate in COAST. Upon joining, members will no longer be able to keep or purchase a parking permit. In exchange for not bringing a car to campus, they receive incentives to participate in the COAST transportation option of their choosing.
Some members choose to use METRO to get to campus. Student, faculty and staff METRO COAST participants who ride the local bus and rail system receive $27.50/month loaded onto a subsidized card. Faculty/staff METRO COAST participants who use Park and Ride receive a subsidized card loaded with 25 percent of their METRO fare.
Want to carpool or vanpool to campus?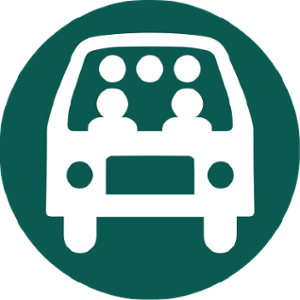 COAST also has a carpool component. Faculty, staff and students who form a three-person carpool and who carpool at least three days a week receive 50 percent off a faculty/staff garage permit. The permit is shared and the cost split among the carpool members. For carpools of four or more people, the discount is 75 percent off!
COAST members who prefer to vanpool receive $27.50/month toward their vanpool costs. Vanpools can operate from anywhere in the eight-county region (not just where METRO operates), and it only takes as few as five people to start a van.
You can join the COAST program at any time during the year, and leave anytime you need to. Also, all COAST members receive 12 parking garage validations per year to use on those days when you have to drive!
Zipcar now a part of COAST
Just a few weeks ago, we officially added a new component to the COAST program: Zipcar.
If Zipcar sounds familiar, that's because it has actually been a part of campus since 2014. But it wasn't until now that it became part of the COAST family.
Zipcar is the world's leading car-sharing network. It has established relationships with several hundred universities across North America.
Zipcar vehicles are available for short-term rentals (by the hour). Use of Zipcar requires an annual membership. Those affiliated with UH can get a discounted annual membership for $35 (regular price is $70).  Hourly rental rates vary by the make and model of the vehicle, but are generally between $7 and $9 an hour. That rental fee covers all gas, insurance, and maintenance for the vehicle.
Zipcars are located at four places on campus: Cougar Village 1, Cougar Place, Bayou Oaks Apartments, and across from University Lofts.  Zipcar members can make a reservation for an available car through the Zipcar app and access the vehicle with their membership card.  At the end of their trip, they return the car to the same place. It is that easy.
To drive a Zipcar, members must be at least 18 years old and have a valid driver's license.
COAST offers two Zipcar incentive options
There are two Zipcar COAST incentives for students, faculty and staff: receive $300 per year in Zipcar driving credits, or $120 per year in Zipcar driving credits plus $180 per year in METRO fare money. To participate in COAST and receive the Zipcar incentive, come to the COAST office and a member of our COAST team will sit down with you and help get you signed up. You can even make an appointment online through the COAST Express system!
If you don't want to join COAST, but would still like to get the discounted Zipcar membership for occasional use, go to this link.
More to come
Although we have grown and added a lot to the COAST program, we aren't done. We are planning to add even more components and incentives. Once those are closer to becoming a reality, we will give you more details. Stay tuned!
posted: Thursday, Oct. 24, 2019