Package Drop to Residential Communities
In order to better accommodate students' busy schedules and to improve the efficiency of processing nearly 1000 packages daily, UH Delivery Services has installed Parcel Locker System at 6 residential locations throughout the University of Houston campus.
These Parcel Locker System provide secure package pickup 24-hours a day and allow students fast, worry-free package retrieval at a time convenient to them.
• Packages will be delivered daily and loaded to the residence location's locker
• Student will recieve an email with locker codes/barcode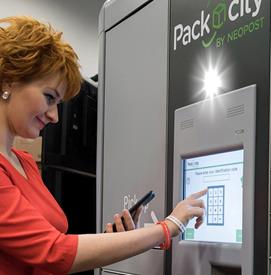 • Student goes to appropriate locker location at their convenience.
• Lockers are available 24/7
• Student walks up to console
• Student enters code/or scans barcode
• Student signs for package on the console
• Locker pops open
• Student retrieves package
• Close door
Exception: All packages that have special notice will not be delivered to the residence halls. These must be picked up from central sorting facility.